SK21G
Price/performance bull's eye
The XPC SK21G offers a welcome alternative in the value-PC market segment. This AMD socket 754 platform boast features usually the reserve of higher priced systems, including high-specification integrated graphics and audio, advanced cooling and noise reduction technology, and enough expansion options (AGP 8X, PCI, USB 2.0, FireWire 400 and Ethernet LAN) to satisfy the requirements of any modern work-station or SOHO computer.

VIA K8M800CE Chipset
The VIA K8M800 is the world's first chipset for the AMD64 platform to feature an Integrated Graphics Processor (IGP) as well as an unparalleled range of cutting edge I/O and multimedia features, allowing both consumer and business users to enjoy an exceptional graphics experience while unleashing the full performance potential of the AMD Sempron™ processor.

UniChrome Pro 3D / 2D 128bits Graphics
The UniChrome™ Pro IGP delivers a rich visual experience ideal for home or the office. Including innovative features such as integrated MPEG-2 hardware acceleration for flawless digital media playback and a 128 bit 2D/3D engine for robust gaming and applications, the XPC SK21G delivers visual performance usually only found in more expensive graphics solutions. What's more, the XPC SK21G's highly flexible and scalable architecture also allows for an external AGP 8X port for optional graphic card upgrades.
5.1 Audio
The XPC SK21G comes equipped with onboard 5.1 audio to deliver high quality sound at no extra cost. Ideal for the home or office, the XPC SK21G allows you to enjoy movies, games and music in theater-like surround sound.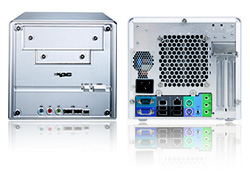 Advanced I/O
The XPC offers ample I/O connectivity, and then some. Features, such as the Clear CMOS button and Wireless LAN perforation, are Shuttle exclusives, and not seen in other small form factor computers.
The XPC's feature-rich back panel is perfectly complemented by an equally rich front panel. With USB 2.0, FireWire 400, earphones, and microphone built into this sexy front panel.