SK22G2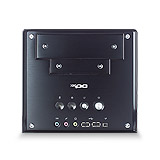 Excellent integration, features!
The XPC SK22G2 offers a welcome alternative in the value-PC market segment. This AMD socket AM2 platform boast features usually the reserve of higher priced systems, including high-specification integrated graphics and audio, advanced cooling and noise reduction technology, and enough expansion options (PCI-E x16, PCI, USB 2.0, FireWire 400 and Ethernet LAN) to satisfy the requirements of any modern work-station or SOHO computer.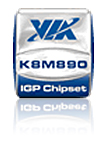 VIA K8M890
The VIA K8M890 integrates VIA's Hyper8™ technology supporting a 1GHz/16-bit (upstream and downstream) HyperTransport processor-to-chipset link, that delivers up to 8GB/s of bandwidth to help ensure all AMD64 processor-based systems achieve their full performance potential.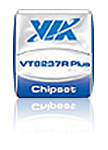 VT8237R Plus
Ripping MP3 songs, editing the family video, emailing your holiday snaps to friends?K digital media is becoming more and more part of our lives, meaning larger and larger file sizes - these days, megabytes and gigabytes have taken over from bytes and kilobytes.
Storing those memories in an efficient, powerful and affordable way is important, and older IDE standards of hard drive technologies are no longer sufficient. Serial ATA represents the new wave of storage data transfer, and RAID the best of breed new standard for multiple hard drive configurations.
VIA brings you both in the easiest to use application with the VIA VT8237R Plus South Bridge. Boasting advanced connectivity and multimedia features, the VT8237R Plus couples with current and next generation North Bridge chipsets to extend system performance across all major processor platforms.
5.1 Audio
The XPC SK22G2 comes equipped with onboard 5.1 audio to deliver high quality sound at no extra cost. Ideal for the home or office, the XPC SK22G2 allows you to enjoy movies, games and music in theater-like surround sound.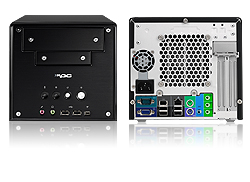 Advanced I/O
The XPC offers ample I/O connectivity, and then some. Features, such as the Clear CMOS button and Wireless LAN perforation, are Shuttle exclusives, and not seen in other small form factor computers.
The XPC's feature-rich back panel is perfectly complemented by an equally rich front panel. With USB 2.0, FireWire 400, earphones, and microphone built into this sexy front panel.