SK41G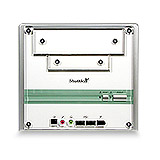 The World's First AMD Small Form Factor with AGP
The Shuttle XPC SK41G is designed for price-conscious users. It supports USB 2.0, ATA-133, AGP/PCI slots in a stylish little box, however, the price is hard to beat! The XPC SK41 is an ideal Desktop at home and office.

Exceptional performance and value
The VIA KM266-based SK41G XPC is loaded with hot features and an affordable price. Designed to provide integrators and consumers a superior out-of-the-box experience with top-shelf functionality built-in. This small form factor mini-barebone also offers good overclocking capabilities.

Power your lifestyle
With support for AMD Ahtlon/XP/Duron 200/266 FSB processors, 8X AGP cards (as well as integrated S3 Savage8 graphics), 5.1 audio, 10/100 Mbps Ethernet, FireWire peripherals and ATA133 drives. The XPC SK41G delivers the perfect combination of size, power and style.
Communicate in style
Built-in FireWire® 400, USB 2.0 and SPDIF digital audio ports make it easy to get digital media — video, photographs, music — into this lightening-fast SFF computer. Then share it all with your friends and family using the integrated 10/100 LAN — quickly and easily capture, edit and share.
Advanced ergonomics
Shuttle's proprietary Silent X technology makes the XPC SK41G cool and quiet. With advanced Integrated Cooling Engine technology, intelligently-engineered airflow mechanics and slick styling, putting the XPC SK41G in your living room, bedroom or office is a natural.