SK43G SE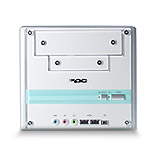 The integration of fashion and computer
XPC SK43SE combine great performance and multi function, let you management easily and enjoy your digital life.
It's the best choice that included web surfing, playing DVD, computer games, and increase your efficiency.
SK43SE is the best choice to replace the huge grey tower computer for your multi media center, your game player, the work station for school works, and SOHO.

Multi functional and highly integration
XPC SK43SE integrated several powerful performance and good upgrade. It's really enriching your digital life!
XPC SK43SE merge the best computer technology and stylish G series chaise, it's lead you enjoy your computer using experience.

Enriching your quality of digital life
SK43SE adopted the VIA KM400 chipset, it's support 333MHz FSB AMD Athlon XP / Duron processor and DDR333 memory. It is a platform stability and powerful performance. SK43SE also supported the 32 bits PCI and 8x AGP slot.
Good support for digital devices
XPC SK43S included FireWire 400 port, USB 2.0, and SPDIF digital sound fiber output. It's let you real time to connect your digital camera, speaker, DV and others digital device. You can enjoy this multi media mini Barebone with your friends and family.

Designed in ergonomics
XPC SK43SE integrated the Shuttle Silent X Technology deliver optimized cooling for exceptional stability, comfort and reliability. The Integrated Cooling Engine uses convection cooling to transfer heat away from the processor and other critical system components. XPC SK43SE outlook beautiful and designed for good air flow inside the chaise.