SN25P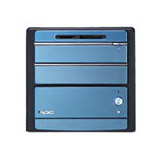 Wicked fast, exceptional expansion
The XPC SN25P takes small form factor (SFF) computer design to the next plane. With support for revolutionary AMD Athlon™64-bit processors as well as scalable PCI-E graphics interface, this machine delivers the performance you need to power your cutting-edge lifestyle--Game play, workflow, and entertainment!

The first SFF with both HyperTransport, PCI-E
Featuring the NVIDIA nForce4 Ultra media and communications processor, the XPC SN25P is optimized to deliver exceptional system performance, security and storage options for high-performance computing environments. Key features of the NVIDIA nForce4 Ultra Express chipset for both consumer and corporate market segments:
‧AMD Athlon 64 processors
‧1GHz system bus
‧HyperTransport™
‧Socket 939
‧NVIDIA RAID
‧SATA/PATA drives
‧Easy-to-use interface
‧ActiveArmor™ Secure Networking
‧Hardware Firewall
‧Reduces CPU overhead
‧Native gigabit controller
‧PCI Express interface
‧Reduces CPU
‧8.0GB/s of Bandwidth
‧Additional power rail

8-channel audio
The SN25P integrates the VIA Envy24PT multi-channel audio controller to deliver high-fidelity audio. Enabling 24-bit resolution and 96KHz sampling rates, the VIA Envy24PT provides support for the latest audio content through its analog and digital interfaces. Further, this model features 8-channel outputs enabling support for the latest Dolby Digital EX and DTS ES DVD-Video soundtracks.
Advanced I/O
Enclosed in the renowned P-chassis, this XPC is a masterpiece of integration and style. Beautifully integrated SD card reader delivers exceptional storage and connectivity flexibility. With FireWire® 400, USB 2.0 and SPDIF digital audio I/O built-in, it's easy to connect all of your peripherals. Further, with Gigabit LAN built-in and optional 802.11g WLAN, the XPC SN25P offers a full palate of options to share your digital files - audio, video and pictures.