SN26P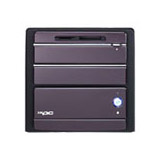 XPC SN26P
The XPC SN26P combines the power and performance of NVIDIA SLI with Shuttle's award winning small form factor technology. This cutting-edge small form factor computer has been engineered to meet the performance needs of the world's most demanding gamers. Powerful, portable and cool. The XPC SN26P is the ultimate gaming system.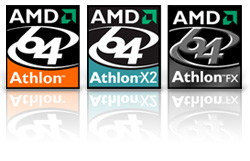 Features
The XPC SN26P supports the entire range of AMD socket 939 processors:
Athlon 64 X2
advanced dual core technology for multitasking and digital media
Athlon 64 FX
extreme performance and overclocking for gaming
Athlon 64
high performance 64 and 32-bit features for mainstream users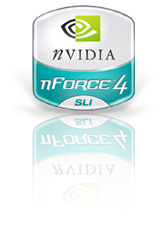 NVIDIA™ nForce4 SLI
Featuring the NVIDIA nForce4 SLI chipset the XPC SN26P delivers the ultimate in gaming performance.
Highly optimized for gaming environments the NVIDIA nForce4 SLI chipset features:
AMD Athlon 64/FX/X2 processor support
1GHz system bus
HyperTransport™
Socket 939
NVIDIA MediaShield storage technology
RAID 0 RAID 1 and JBOD
SATA/PATA drive support
SATA NCQ and 3Gb/s support
Easy-to-use interface
NVIDIA ActiveArmor Hardware Firewall
Reduces CPU overhead
Native gigabit controller
PCI Express interface
x16 graphics slot
8.0GB/s of Bandwidth
supports NVIDIA GeForce series 7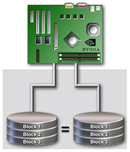 NVIDIA MediaShield storage technology
Unique support for four SATA and 1 ATA-133 drives gives the XPC SN26P the storage edge over competing SFF solutions. Cross platform (SATA and PATA) RAID 0, RAID 1 and JBOD support (RAID 0+1 is also supported) provides flexible data security and performance. With the performance boost of RAID games can launch faster, and levels load more quickly. The XPC SN26P gets you into the action all guns blazing.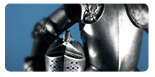 NVIDIA ActiveArmor Hardware firewall
NVIDIA ActiveArmor Firewall adds a protection to the XPC SN26P??s Gigabit Ethernet connection by filtering out any unauthorized or suspicious traffic. Easy to set up and fast to configure, NVIDIA ActiveArmor Firewall helps keep you safe when playing online or at LAN parties.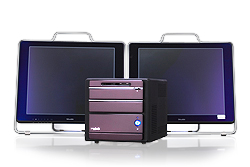 PCI Express interface with SLI
The XPC SN26P supports the latest PCI Express graphics cards to deliver the power needed to enjoy the next-generation games. The x16 PCI Express bus delivers over 4GBps in both upstream and downstream data transfers allowing games to be more visually stunning with larger levels, more complex architecture and higher quality textures.
NVIDIA SLI technology allows gamers to double the graphics processing power within the XPC SN26P for higher frame rates, higher resolutions, and higher performance when using image-enhancing features such as anti-aliasing and anisotropic filtering. The best frame rates, the best image quality, the best features. Play the best with the XPC SN26P.

VIA Envy24PT audio
The XPC SN26P integrates the VIA Envy24PT multi-channel audio controller to deliver high-fidelity audio. Enabling 24-bit resolution and 96KHz sampling rates, the VIA Envy24PT provides support for the latest audio content through its analog and digital interfaces. Further, this model features 7.1-channel outputs enabling support for the latest Dolby Digital EX and DTS ES DVD-Video soundtracks.
This XPC delivers high-intensity sound effects, adrenalin pumping music, and multidirectional audio, for a fully immersive gaming environment. Get into the game with the XPC SN26P. Graphics Card Compatibilitya

Advanced I/O
(2) PCI E x16 slots
PS2 Keyboard/Mouse
Serial Port
6 USB 2.0 ports (2 front/4 back)
2 FireWire ports (1 front/1 back)
Gigabit (RJ-45) LAN port
7.1 Audio
SPDIF in
SPDIF out
Clear CMOS
Coaxial RCA connector
Line in
Mic in
Headphones
SD card reader
The XPC SN26P has all the connectivity options a gamer needs, and then some. Dual PCI Express graphics slots for advanced graphics, and multi-channel audio ports for true surround sound combine to deliver the ultimate audio-visual experience of any small form factor system. The XPC SN26P offers several options to connect to others for LAN and Internet multiplayer gaming, including FireWire, high-speed Gigabit LAN, or even wireless*. Finally, 4 USB 2.0allows gamers to attach multiple gaming peripherals such as gamepads, steering wheels, joysticks, and Internet chat headsets.