SN27P2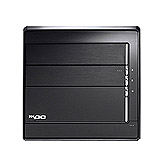 The Performance Leader
New for 2006 the XPC SN27P2 features the latest technology for the AMD platform, including PCI Express x16, SATA 3Gb/s with RAID, eSATA, and Gigabit LAN. Powered by the new NVIDIA nForce 570 Ultra MCP and featuring AM2 socket processor support, the XPC SN27P2 is ready to be partnered with AMD Athlon 64 X2 and FX series processors to create the most powerful XPC ever.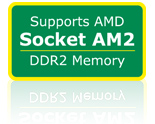 AM2 socket Processor Support
The XPC SN27P2 supports the new AM2 socket CPU range from AMD. From high-value Sempron CPUs to the premium FX series, the XPC SN27P2 gives you complete freedom to choose the processor that matches your budget and performance needs.
Athlon 64
high performance 64 and 32-bit features for mainstream users
Athlon 64 X2
advanced dual core technology for multitasking and digital media
Athlon 64 FX
extreme performance and overclocking for gaming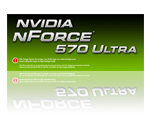 NVIDIA nForce® 570 Ultra MCP
NVIDIA nForce 570 Ultra media and communications processors (MCPs) are designed for demanding users who want safe and easy access to all their media files and the system performance to easily create, edit, and share their creations.
PCI Express interface
The PCI Express architecture enables increased bi-directional bandwidth to the graphics and I/O interfaces. With theoretical bandwidth up to 4 GB/s per direction, the PCI Express x16 graphics port can provide more than three and a half times the graphics bandwidth over previous high-performance discrete graphics solutions.
Designed to support cutting-edge PCI Express graphics, the XPC SN27P2 has been tested compatible with the latest high-performance graphics cards.

NVIDIA Native Gigabit Ethernet
The industry's fastest Gigabit Ethernet performance eliminates network bottlenecks and improves overall system efficiency and performance.

NVIDIA FirstPacket™ technology
Be the 'King of Ping' with NVIDIA FirstPacket technology. Get the crystal-clear phone conversations and online gaming performance you expect. NVIDIA FirstPacket technology assures your game data, VoIP conversations, and large file transfers are delivered according to preferences set by you in an intuitive wizard.

NVIDIA MediaShield™ Storage
Suite of features that safeguards your most important digital media assets; always reliable, scalable, and accessible. Includes RAID and SATA drive support.

Multiple Disk Setup
Through a simple wizard-based interface, you can effortlessly set up your drives for better data protection, faster disk access or maximum storage capacity. MediaShield automatically selects RAID 0, 1, 0+1 or 5 configurations according to your needs. Advanced users can access RAID options directly.

DiskAlert System
The event of a disk failure, MediaShield users see an image that highlights which disk has failed to make it easier to identify, replace, and recover.

RAID Morphing
MediaShield allows users to change their current RAID set-up to another configuration in a one-step process called morphing. This eliminates the need to back up data and follow multiple steps in the process.

Bootable Multidisk Array
MediaShield storage fully supports the use of multi-disk array for loading the operating system at power-up.

SATA 3Gb/s RAID
Combine up to 4 SATA drives into one volume for bigger, faster RAID. More drives mean more configuration options such as RAID 0 (striped) for maximum throughput, or RAID 1 or RAID 5 for data security. Take advantage of the latest SATA 3Gb/s hard disk drives with full support for native command queuing and hot plug. Native command queuing provides higher disk performance in a multi-threaded environment by performing out-of-order disk accesses.
8GB DDR2 RAM support
The XPC SN27P2 features 4 DDR2 memory slots and supports an incredible 8GB of RAM. Up to 4 times the capacity of previous generation XPCs, the XPC SN27P2 is optimized for future high-memory-demand applications such as 64-bit software, high definition video, and games.

Realtek ALC882 HD Audio
The ALC882 series 7.1+2 Channel High Definition Audio codecs with UAA (Universal Audio Architecture), featuring five 24-bit stereo DACs and three 20-bit stereo ADCs, are designed for high performance multimedia PC systems. The ALC882 series incorporates proprietary converter technology to achieve over 100dB Signal-to-Noise ratio playback quality; easily meeting PC2001 requirements and also bringing PC sound quality closer to consumer electronic devices.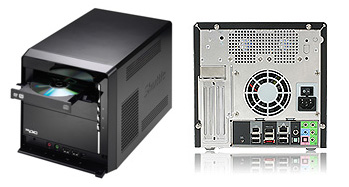 Advanced I/O
The XPC SN27P2 is ready to connect to all your modern digital devices. Cameras, music players, VoIP phones, printers, USB flash drives, and more can all be attached directly thanks to the easy to reach USB 2.0 and FireWire 400 ports at the front of the system.
The XPC SN27P2's feature-rich front panel is perfectly complemented by an equally rich back panel. With USB 2.0, FireWire 400, and external SATA (eSATA), the XPC SN27P2 provides more connections and ease of use over regular ATX forced to sit on the floor and out of reach.