SN41G2 V2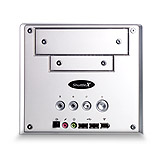 Built for [easy] performance…
The XPC SN41G2 is designed to be the centerpiece of you digital life. This small form factor (SFF) computer offers unmatched style, functionality and performance. From digital music to editing digital video, the XPC SN41G2 delivers the perfect combination of size, performance and style.
"For … office work, movies, music and everything … this machine is all you'll ever need" — Fuad Abazovic, reviewer, TheInquirer.net.
The XPC SN41G2 is an ideal:
• Digital hub (music, photos and video)
• Desktop replacement
• Home gaming center
• Home office productivity

Built for [easy] performance…
The XPC SN41G2 is in a class of its own. Offering an exceptional balance of integrated and upgradeable features, this is the XPC for the user that wants it all — budget-savvy good looks and advanced performance.

Faster is better
This leading-edge NVIDIA nForce™2-based small form factor (SFF) computer supports 400MHz FSB AMD Athlon™ XP, and dual-channel DDR333 memory, so it's wicked-fast. Also, with both NVIDIA GeForce™4 MX integrated graphics and an 8X AGP slot, video performance can grow with your needs.
Advanced I/O
With FireWire® 400, USB 2.0 and SPDIF digital audio I/O built-in, it's easy to connect all of your peripherals. Further, with 10/100 LAN built-in and optional 802.11b WLAN, the XPC SN41G2 offers a full palate of options to share your digital files — audio, video and pictures.
Excellent ergonomics
Shuttle's proprietary Silent X technology makes the XPC SN41G2 cool and quiet. Advanced Integrated Cooling Engine technology, intelligently-engineered airflow mechanics, Silent X 250W PSU and the classic good looks of Shuttle's G2-series enclosure make the XPC SN41G2 an optimal desktop replacement.