SN45G V3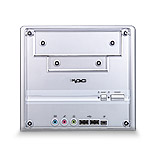 For overclockers, enthusiasts…
The XPC SN45G V3 is the ultimate-affordable high-performance small form factor (SFF) computer. Built from the ground up performance and value, this XPC offers unmatched style and functionality. Whether you're into gaming or digital media, the XPC SN45G V3 offers all the features and tools gamers and enthusiasts could want.
"The Shuttle SN45G V3 … is a must-have for overclockers and enthusiasts, wishing to have a SFF PC with all the overclocking potential" — Chronos, reviewer, VR-Zone.com.
The XPC SN45G V3 is an ideal: LAN-gaming computer, Desktop replacement, Home gaming center, Great overclocking platform!

Great performance at a great price!
The XPC SN45G V3 delivers all of the power and performance of a desktop in one-third the space. Whether yo⁵re seeking more frames per second or faster rendering, this is the most-affordable AMD-compatible performance SFF anywhere!

Awesome memory + awesome power
This leading-edge NVIDIA nForce2-based small form factor (SFF) computer supports 400MHz FSB AMD Athlon XP and Duron processors, and dual-channel DDR400 memory, so it's wicked-fast. Also, with 8X AGP-enhanced graphic performance and robust overclocking features, you can push the XPC SN45G V3 to the limit.
Communicate in style
Built-in FireWire® 400, USB 2.0 and SPDIF digital audio ports make it easy to get digital media — video, photographs, music — into this lightening-fast SFF computer. Then share it all with your friends and family using the integrated 10/100 LAN — put real power into ultimate digital lifestyle.
Advanced ergonomics
Shuttle's proprietary Silent X technology makes the XPC SN45G V3 cool and quiet. With advanced Integrated Cooling Engine technology, intelligently-engineered airflow mechanics and the classic good looks of Shuttle's G-series enclosure, putting the XPC SN45G V3 in your office or dorm room is a natural.