SN68PTG6 DELUXE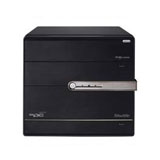 Hi-Def Your Vision
Featuring the unprecedented performing integrated graphics solution on the market, the NVIDIA® GeForce® 7050PV/ NVIDIA nForce® 630a, Shuttle SN68PTG6 Deluxe delivers breathtaking high definition video and audio capabilities for the latest high definition digital multimedia system. Powered by NVIDIA® PureVideo Technology with HDMI, delivers richer graphics and smoother video from your Blu-ray and HD-DVD contents.
Enjoy a complete entertainment experience with visually stunning HD video delivered through HDMI output and the finest cinematic surround sound effects by Dolby® Digital Live! and DTS™ Connect.
Featuring fingerprint recognition technology, the SN68PTG6 Deluxe provides an added layer of security to ensure your personal documents and information are kept safe. In addition, data sharing is much faster and more convenient than before with e-SATA and innovative USB Speed-Link feature, which easily connects and shares data between 2 PCs.

Support the Latest AM2 Multi-core Processors
The new AM2 platform brings amazing performance for high level gaming and office applications.

Features NVIDIA® PureVideo™ Technology
Deliver superb picture clarity and stutter-free playback of high definition home theater experience to your PC, without the annoying artifacts and imperfections of traditional PC-based video solutions.

Finest Cinematic Surround Sound Experience
What would a home theater be without booming, immersive 7.1 channel surround sound? Experience the state-of-the-art sound quality provided by Dolby® Digital Live and DTS™ Connect functionality.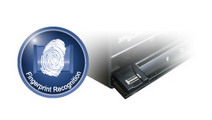 Advanced Security for Your Digital Information
Add a layer of security protection through the integrated biometric fingerprint reader, you can keep your digital identity and data more secure, no more worries for memorizing multiple passwords for different usage.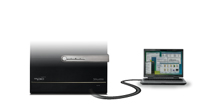 Innovative USB Speed-Link Technology
File sharing among 2 PCs has never been easier with the innovative USB Speed-Link technology, simply connects both systems through a USB cable without having the hassle of driver installation or worry about insufficient space of a DVD disc.

Seamless Connectivity
Enjoy the life of freedom without messy cords and cables, featuring WiFi 802.11b+g and Bluetooth functionality provide you the ease of connectivity to the Internet and peripherals.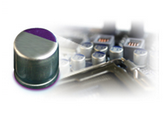 All Solid Capacitor Motherboard Design
All solid capacitors design is the new trend for Shuttle's motherboard and guaranteed to deliver maximum stability, reliability and longer system lifetime for the ultimate PC gaming and entertainment experience.

Features NVIDIA® nView® Multi-Display Technology
Supporting up to a maximum of 4 monitors, the nView® Multi-Display Technology provides the greatest productivity out of your system. Working with 4 monitors means you are no longer confined to a single monitor, spreading your work or games over multiple displays. No more minimizing windows or having them tabbed together, see clearer and work more efficiently and effectively with NVIDIA® nVIEW® Multi-Display Technology.
Links