SN95G5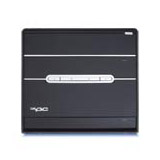 64-bit power computing!
The XPC SN95G5 destroys the myth that bigger PCs are faster. Designed for power-hungry users, this AMD Athlon 64-based small form factor (SFF) computer delivers tower-crushing, performance in one-third the space. Do everything faster, get the XPC SN95G5 today! The XPC SN95G5 is an ideal: LAN-gaming PC; Home gaming machine; Digital media management center; Digital content workstation.

AMD Athlon 64 Processors (Socket 939)
AMD introduced the next natural step in desktop processor development - the Athlon 64. This processor delivers greater bandwidth, processing power and on a whole, better performance than existing, legacy 32-bit chips. User's clamored to join the 64-bit revolution and channel partners had few issues moving boxes.
Now with the introduction of Socket 939 processors based on the same Athlon 64 architecture, user's can experience more raw power and even better memory performance. Increased HyperTransport bandwidth allows for a full 1GHz (2000MT/s) CPU-Northbridge link. The on-chip, Dual-Channel DDR400 memory controller of the NVIDIA nForce 3 Ultra Chipset provides a palpable performance boost.

NVIDIA nForce 3 Ultra Chipset
Based on the NVIDIA nForce3 Ultra chipset, the SN95G5 delivers cutting-edge features and wicked-fast performance. Supporting new-to-market Socket 939 Athlon 64 processors, this chipset supports a fast 1GHz system bus with upstream and downstream data transfers equating to an amazing 2000MT/s ( Mega Transfers per second ). In addition, the nForce3 ultra chipset supports high-bandwidth 8X AGP cards.