SP45H7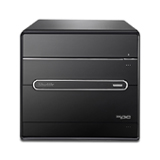 Accelerate Your Gaming Power
The Shuttle Prima SP45H7 provides true value delivered with newest Intel P45 chipset technology and Shuttle new H7 chassis design. It is designed to provide quality and flexibility to gamers who chase for high end gaming station. The SP45H7 supports the newest Intel Core™2 Quad Processors, DDR2 1066(OC), PCI Express™ Gen 2.0 architecture, 1600Mhz FSB, Serial ATA 3 Gb/s, 80 plus low power consumption and superior system performance. Powerful, yet tranquil platform which produces less than 28dBs when runs heavy software applications.
Supports Intel Core™2 Quad / Core™2 Duo/ Dual-Core/Celeron 400 series
With four execution cores, the Intel® Core™2 Quad processor blows through processor-intensive tasks in demanding multitasking environments and makes the most of highly threaded applications.

Intel P45 Express Chipset
Desktop PC platforms based on the Intel® P45 Express Chipset, combined with either the Intel® Core™2 Quad processor or Intel® Core™2 Duo processor, drive performance and state-of-the-art technology to mainstream and performance platforms.
New Chassis Design
The new Shuttle H7 aluminum chassis structure is designed for light weight and rust proof. The large interior space allows full length graphic card and availability for upgrade. The new H7 chassis enlarges a fan of PSU up to 5cm, which encourages better thermal efficiency for the complete system. The front panel includes a built-in eSATA connector for easy access to a variety of media content and facilitate the connection.
PCI-E 2.0 Interface
PCI Express 2.0 provides greater flexibility and reliability in design and can dynamically manage power and performance through software controls. The improved bandwidth capability enables much higher levels of performance on graphics-intensive applications such as high-end gaming and video rendering.

Dynamic Over-clocking Technology
User friendly Dynamic Over-clocking feature enabling an easy way to over-clock your system to BIOS presets (3%, 5%, 7% and 10%). For more advanced users wanting more options additional voltage and frequency settings are available including the tuning of FSB, NB core, SB core and PCI-E.
Integrated Cooling Engine (ICE)
Integrated Cooling Engine (ICE) uses convection cooling to dissipate heat away from and around the CPU up to 140W. Copper tubes coated in nickel enhances tube hardness and rust-proof protection are filled with distilled water, effectively channels heat away, providing high efficiency processor and chassis cooling.
All Solid Capacitors Motherboard Design
All solid capacitors design is the new trend for Shuttle's motherboard and guaranteed to deliver maximum stability, reliability and longer system lifetime for the ultimate PC gaming and entertainment experience.

80 PLUS® Certified Power Supply
The 80 PLUS® performance specification is a standard which requires power supplies in computers and servers to be 80% or greater energy-efficient. This makes an 80 PLUS® certified power supply at least 33% more efficient than current power supplies. The SP45H7 is guaranteed by 80 PLUS BRONZE certification.

Save Our Earth! Energy Star 4.0 Labeled
Show your environmental consciousness in action! Energy efficient, power consumption and cost reduced, which means that it definitely helps you save money and protect the environment.