SS30G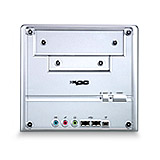 Excellent integration, features!
The XPC SS30G is the ideal first time SFF computer. With support for the full spectrum of mainstream components; IntelR Celeron D/Pentium 4/Pentium D Processor, 1 sticks of DDR2 memory, Serial ATA RAID storage and value PCI Express x16 cards, the XPC SS30G2 lets you build the best-value computer for the SOHO business segment. Including bargain integrated graphics and 5.1 channel audio, and a full back panel of the latest industry standard interfaces (PCI E, USB 2.0, FireWire 400 and Ethernet LAN) it is easy to see why the latest G2 chassis XPC is set to become the next best-seller.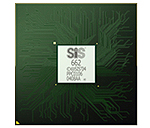 SiS 662 + 966L Chipset
The SiS662, supporting Pentium® D Dual-Core processor and Pentium® 4 FSB up to 800MHz, features a PCI Express x16 Bridge, flexible Single-Channel DDR2-667 Memory controller, Mirage™ 1 graphic engine, and SiS MuTIOL® Technology, which connects with the SiS966L MuTIOL® Media I/O.
The SiS662 PCI Express x16 Bridge, compliant with PCI Express SPEC 1.0a, provides bandwidth up to 4.0GB/s. The SiS662 Flexible Single-Channel Memory Controller, delivers bandwidth up to 5.4GB/s (DDR2-667).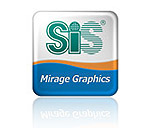 SiS Mirage 1 Graphics engine
For everyday office productivity or mainstream uses the SiS Mirage 1 Graphics engine integrated within the XPC SS30G delivers high-quality visual performance at a low cost price point.
5.1 Audio
The XPC SS30G comes equipped with onboard 5.1 audio to deliver high quality sound at no extra cost. Ideal for the home or office, the XPC SS30G allows you to enjoy movies, games and music in theater-like surround sound.
Advanced I/O
The XPC offers ample I/O connectivity, and then some. Features, such as the Clear CMOS button and Wireless LAN perforation, are Shuttle exclusives, and not seen in other small form factor computers.

The XPC's feature-rich back panel is perfectly complemented by an equally rich front panel. With USB 2.0, FireWire 400, earphones, and microphone built into this sexy front panel.