SS58G2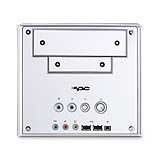 Hot features, cool price!
The XPC SS58G2 is loaded with hot features and an affordable price. Designed to bring the latest technologies to your desktop but still be affordable, this XPC offers fantastic support for all of your productivity, web and multimedia apps. Discover the advantages of Shuttle's small form factor (SFF) computers with the XPC SS58G2.

Power your lifestyle
This enhanced-productivity SiS 661FX-based SFF computer supports industry-leading 800MHz FSB Intel® Pentium® 4 and Celeron® D LGA775 processors. Also, with 8X AGP-enhanced graphic performance and 32-bit expansion slot, add cutting-edge technologies to the XPC SS58G2 as soon as they come out.

It all connects
Built-in FireWire® 400, USB 2.0 and SPDIF digital audio ports make it easy to get digital media - video, photographs, music - into this ultra-reliable SFF computer. Then share it all with your friends and family using the integrated 10/100 LAN - put real power into ultimate digital lifestyle.
Advanced ergonomics
Shuttle's proprietary Silent X technology makes the XPC SS58G2 cool and quiet. With advanced Integrated Cooling Engine technology, intelligently-engineered airflow mechanics and the classic good looks of Shuttle's G2-series enclosure, putting the XPC SS58G2 in your office or dorm room is natural. Get one today.