ST62K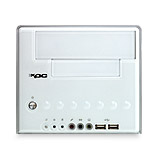 XPC Zen: It's "Super Quiet, Super Cool"
The XPC Zen (ST62K) is the new benchmark for "Super Quiet, Super Cool" computing. Designed to be the centerpiece of you digital life, this small form factor (SFF) computer offers unmatched style, functionality and performance. From web surfing to watching DVD's and gaming to office productivity, the XPC Zen (ST62K) delivers the perfect combination of size, power and style.
"XPC Zen breaks new ground by delivering intelligently-engineered features in a size and style designed to dazzle" — Ken Huang, vice president, systems R&D.
The XPC Zen is an ideal:
- Digital hub (music, photos and video).
- Desktop replacement.
- Home media center.
- Home office platform.
XPC Zen: It's "Super Quiet, Super Cool"
From its excellent integrated graphics to its slick styling, the XPC Zen (ST62K) has been designed to be the hub of your digital life. This small form factor (SFF) computer provides the ultimate in flexibility, versatility and style in one-third the space of a large, loud and ugly PC.
Powerful features
The XPC Zen supports Intel®'s latest Pentium® 4 and Celeron® processors, as well as Hyper-Threading technology, cutting-edge ATI RADEON™ 9100 graphics and dual-channel DDR400 memory to power your digital lifestyle.
Advanced connectivity
With FireWire® 400 and USB 2.0 ports built-in, it's easy to connect all of your peripherals. Onboard TV-out, VGA, SPDIF and LAN ports offer a complete palate of options to display and share your digital audio, video and image files.
Advanced ergonomics
Shuttle's proprietary Silent X technology makes the XPC Zen "Super Quiet, Super Cool." With advanced Integrated Cooling Engine technology, intelligently-engineered airflow mechanics and the revolutionary Silent X 180W external power adapter, putting this SFF computer in your living room, bedroom or office is a natural. Take one home today…