SX48P2 DELUXE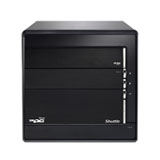 An Ideal Setup for Hardcore Gamers
Shuttle's flagship barebone of the highest performance will definitely revolutionize the extreme hardcore enthusiasts. Shuttle SX48P2 Deluxe will set you up for the latest mind-blowing Intel® Core™ 2 Extreme processors supporting 1600MHz Front Side Bus and matching blistering fast DDR3 memory while also maintaining Intel® Turbo Memory Technology for accelerated application boot time and Intel® eXtreme Memory Profile (XMP) for maximum over-clocking performance.
With the latest PCI-Express Gen 2.0 supporting ATi CrossFire™ and DirectX® 10 delivering the most hardcore gaming platform and awesome performance, visually stunning effects and breathtaking high definition 7.1 channel audio effects delivered through Dolby® Digital Live! and DTS™ Connect.
Differentiating itself the SX48P2 Deluxe has 8-phase digital PWM for precise voltage control, dual gigabit Ethernet with Teaming function and external HD power connector for your eSATA, all this on top of the deluxe features integrated biometric Fingerprint Recognition Technology, innovative USB Speed-Link Technology, WiFi 802.11b/g and Bluetooth 2.0.

Next Generation Intel® 45nm Processor
The new Intel® 45nm processor brings new microarchitectures with twice the density of Intel® 65nm technology. Packing about double the amount of transistors on the same silicon space, the Intel® 45nm technology boasts improved speeds and reduced leakages for great performance leaps and energy efficiency.

Intel® LGA775 Processor Support
Intel® Core™ 2 Extreme @ 1600MHz FSB
The Intel® Core™ 2 Extreme quad-core processor for desktop PCs features the latest arsenal of performance-rich technologies. It was designed to run energy-efficient so you can run red hot. Plus, that added energy efficiency enables systems to run quieter.

Intel® Core™ 2 Quad
With four execution cores, the Intel® Core™ 2 Quad processor blows through processor-intensive tasks in demanding multitasking environments and makes the most of highly threaded applications. Pioneer the new world of quad-core and unleash the power of multi threading.

Intel® Core™ 2 Duo
experience revolutionary performance, unbelievable system responsiveness, and energy-efficiency built in - up to 40% faster and over 40% more energy efficient.

Intel® X48 Express Chipset
The very first chipset to support 1600MHz FSB and only DDR3 memory, the Intel® X48 Express Chipset is the premier of all chipsets. Intel® eXtreme Memory Profile (XMP) optimized system memory capabilities and chipset over-speed protection removed for maximum over-clocking performance and Intel® Turbo Memory for improved system responsiveness, faster application loading and concurrent performance enhancement.

PCI-Express Gen 2.0 with ATi CrossFire™ Technology
Experience the most hardcore gaming platform featuring PCI-Express Gen 2.0, the latest architecture providing twice the bandwidth of current PCI-Express. Be amazed by the stunning graphics performance and ultimate visual experience presented by ATi CrossFire™ Technology.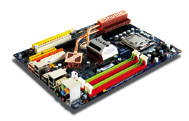 OASIS Cooling Technology
Within the best performing platform is the top performance cooler, the newly designed Shuttle OASIS Cooling Technology delivers just that. Specially designed 3-part heat-sinks interconnected by convection cooling pipes covering the North Bridge, South Bridge and MOSFET modules effectively dissipate heat without the use for fans. Featuring all-new heat pipe designs, Shuttle OASIS allows users to enjoy longer component lifetime through lower temperatures and added system stability all in a silent operational environment.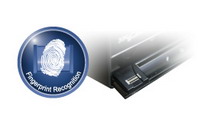 Advanced Security for Your Digital Information
Add a layer of security protection through the integrated biometric fingerprint reader, you can keep your digital identity and data more secure, no more worries for memorizing multiple passwords for different usage.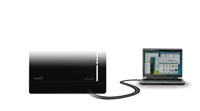 Innovative USB Speed-Link Technology
File sharing among 2 PCs has never been easier with the innovative USB Speed-Link technology, simply connects both systems through a USB cable without having the hassle of driver installation or worry about insufficient space of a DVD disc.
Dynamic Over-clocking Technology
User friendly Dynamic Over-clocking feature enabling an easy way to over-clock your system to BIOS presets (3%, 5%, 7% and 10%). For more advanced users wanting more options additional voltage and frequency settings are available including the tuning of FSB, NB core, SB core and PCI-E.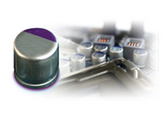 All Solid Capacitors Motherboard Design
All solid capacitors design is the new trend for Shuttle's motherboard and guaranteed to deliver maximum stability, reliability and longer system lifetime for the ultimate PC gaming and entertainment experience.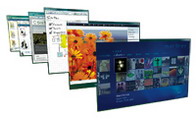 Supports Windows Vista Premium
Breathtaking Windows Aero™ 3D visual interface and a host of groundbreaking new features, Windows® Vista™ Premium promises to deliver a streamlined computing experience designed to fundamentally change how users view, find and organize their digital information.

80 PLUS® Certified Power Supply
The 80 PLUS® performance specification is a standard which requires power supplies in computers and servers to be 80% or greater energy-efficient. This makes an 80 PLUS® certified power supply at least 33% more efficient than current power supplies.