SX58H7

Meant to Offer Highest Performing Value
Just when you think you've got it all in a PC platform. Shuttle gives you more! The Shuttle SX58H7 Pro Station packs amazing performance into a mini glossy aluminum enclosure to reach "work hard and play hard" goals of extreme gamers, demand enthusiasts and mainstream PC users.
Supports Intel® Core™ i7 Processor Extreme Edition/Core™ i7 Processor
The SX58H7 supports the state-of-the-art Intel® Core i7 based processors in LGA1366 package delivering an incredible breakthrough in PC performance.
Conquer the world of extreme gaming with the fastest processor on the planet: the Intel® Core™ i7 processor Extreme Edition. With faster, intelligent multi-core technology that responds to your workload, it delivers an incredible breakthrough in gaming performance.

With faster, intelligent multi-core technology that automatically applies processing power where it's needed most, new Intel® Core™ i7 processors deliver an incredible breakthrough in PC performance.

Enjoy Top-of-the-line Performance with Intel X58
The Intel X58 Express Chipset further achieves ultimate performance by supporting the latest Intel® Core™ i7 family of processors and triple channel DDR3 a max.bandwidth of up to 16GB. New technology Quick Path Interconnect (QPI) design increases bandwidth and lowers latency.
Elegant Glossy Design
The new high-gloss black finish chassis of SX58H7 reflects your elegant taste in hi-tech products. The new Shuttle H7 aluminum chassis structure is designed for light weight and rust proof. The large interior space allows full length graphic card and availability for upgrade.

The new H7 chassis enlarges a fan of PSU up to 5cm, which encourages better thermal efficiency for the complete system. The front panel includes a built-in eSATA connector for easy access to a variety of media content and facilitate the connection.
3+1 Channel DDR3 1066/1333/1 600(OC)
The SX58H7 supports DDR3 memory that meets the higher bandwidth requirements of the 3D graphics, multimedia, and Internet applications. The 3+1 channel DDR3 architecture triples the bandwidth of the system memory to boost performance. Meanwhile, the reduction of voltage of DDR3 further makes it an ideal memory solution.
Dual VGA Card Platform
Arm yourself with best experience in gaming performance and image quality.The SX58H7 is equipped its motherboard with ATI® CrossFireX™. and Nvidia® SLI™ compliant options.

ATI® CrossFireX™ Technology
ATI® CrossFireX™ is the ultimate multi-GPU performance gaming platform. Enabling game-dominating power, ATI CrossFireX technology enables two or more discrete graphics processors to work together to improve system performance.

NVIDIA SLI™ Technolgoy
NVIDIA® SLI™ technology is a revolutionary platform innovation that allows you to intelligently scale graphics performance by combining multiple NVIDIA graphics solutions in an SLI-Certified motherboard. It delivers up to twice the performance of a single graphics solution.

Groundbreaking I.C.Evo
Combining new technology -Vapor Chamber base with Heat Pipe Technology, Shuttle boosts thermal efficiency by using vapor chamber, the flat and thin heat pipe to help spread heat flow equally than previous copper spreader. The new I.C.Evo lowers CPU temperatures by up to 7°C and provides best efficiency in cooling.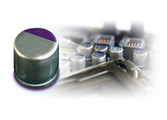 All Solid Capacitors
All solid capacitors design is the new trend for Shuttle's motherboard and guaranteed to deliver maximum stability, reliability and longer system lifetime for the ultimate PC gaming and entertainment experience.

Minimum of 80% Efficiency Guaranteed
The 80 PLUS ® performance specification requires power supplies in computers and servers to be 80% or greater energy efficient. This makes an 80 PLUS certified power supply up to 33% more efficient than current power supplies. 500W high efficiency & energy saving power supply of SX58H7 is guaranteed by 80 PLUS BRONZE certification.