SX58H7 PRO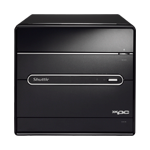 Ultimate Reinforcement – Fully Armed
The newer and faster power station, Shuttle SX58H7 Pro, equipped with H7 mini glossy aluminum chassis, features the Intel latest X58 Chipset, supporting the newest Intel Core™i7 Processors, triple channel DDR3 max. up to 16GB, 2*PCI Express™ Gen 2.0 architecture with ATI Cross FireX & NVIDIA SLI support, 500W 80 plus Bronze PSU and fantastic system performance. The SX58H7 Pro not only carries the overpowering interfaces like before, but also includes the new supported of USB 3.0 and SATA 6G. Offer enthusiasts and gamers a crucial platform to gain and achieve the ultimate result and upgradeability.
Supports Intel® Core™ i7 Processor Extreme Edition/Core™ i7 Processor
The SX58H7 Pro supports the state-of-the-art Intel® Core i7 based processors in LGA1366 package delivering an incredible breakthrough in PC performance.

Conquer the world of extreme gaming with the fastest processor on the planet: the Intel® Core™ i7 processor Extreme Edition. With faster, intelligent multi-core technology that responds to your workload, it delivers an incredible breakthrough in gaming performance.

With faster, intelligent multi-core technology that automatically applies processing power where it's needed most, new Intel® Core™ i7 processors deliver an incredible breakthrough in PC performance.
Enjoy Top-of-the-line Performance with Intel X58
The Intel X58 Express Chipset further achieves ultimate performance by supporting the latest Intel® Core™ i7 family of processors and triple channel DDR3 a max. capacity of up to 16GB. New technology Quick Path Interconnect (QPI) design increases bandwidth and lowers latency.
Elegant Glossy Design
The new high-gloss black finish chassis of SX58H7 Pro reflects your elegant taste in hi-tech products. The new Shuttle H7 aluminum chassis structure is designed for light weight and rust proof. The large interior space allows full length graphic card and availability for upgrade. The new H7 chassis enlarges a fan of PSU up to 5cm, which encourages better thermal efficiency for the complete system. The front panel includes a built-in eSATA connector for easy access to a variety of media content and facilitates the connection.

3+1 Channel DDR3 1066/1333/1 600(OC)
The SX58H7 Pro supports DDR3 memory that meets the higher bandwidth requirements of the 3D graphics, multimedia, and Internet applications. The 3+1 channel DDR3 architecture triples the bandwidth of the system memory to boost performance. Meanwhile, the reduction of voltage of DDR3 further makes it an ideal memory solution.
Dual VGA Card Platform
Arm yourself with best experience in gaming performance and image quality. The SX58H7 Pro is equipped its motherboard with ATI® CrossFireX™. and Nvidia® SLI™ compliant options.

ATI CrossFireX Technology
ATI CrossFireX™ is the ultimate multi-GPU performance gaming platform. Enabling game-dominating power, ATI CrossFireX technology enables two or more discrete graphics processors to work together to improve system performance.

NVIDIA SLI™ Technology
NVIDIA® SLI™ technology is a revolutionary platform innovation that allows you to intelligently scale graphics performance by combining multiple NVIDIA graphics solutions in an SLI-Certified motherboard. It delivers up to twice the performance of a single graphics solution.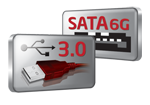 Advance Data Transfer Connection
SuperSpeed USB
SX58H7 Pro offers 2 front ports up-to-date connector from USB3.0.
Faster: USB 3.0 performs at it top speed at 5Gbps, which is 10x faster than the Hi-Speed USB (USB 2.0).
Smarter: A bi-directional transfer and receive design, allows data to flow in both ways/directions at the same time. Plus, its backward compatibility, allows USB 3.0 gears to work on USB 2.0 ports and vice versa.
Efficient: USB 3.0 maximize bus power output from currently 500mA (USB 2.0) to 900mA. A USB 3.0 port provides up to 4.5W of electricity and allows power-hungry devices to be bus powered without extra power adapters.
SATA 3.0
SATA 3.0 is the newest generation architecture for storage units, disk drives, optical and tape drives and protocol host bus adaptors (HBAs). It is also renowned as SATA 6 Gb/s. As end-users amass ever-increasing amounts of high-resolution photos, videos, music, and other data, basic transfer rates become crucial. SATA 3.0 provides transfer speed up to 6Gbps. It enables consumers to mover large amounts of data at a much faster rate than before.
I.C.E. Bridge
Within the best performing platform is the top performance cooler, the newly designed Shuttle I.C.E. Bridge Cooling Technology delivers just that. Specially designed 3-part heat-sinks interconnected by convection cooling pipes covering the North Bridge, South Bridge and MOSFET modules effectively dissipate heat without the use for fans. Featuring all-new heat pipe designs, Shuttle I.C.E. Bridge allows users to enjoy longer component lifetime through lower temperatures and added system stability all in a silent operational environment.
I.C.E. 2
Like its predecessor, Integrated Cooling Engine 2 (ICE 2) uses convection cooling to dissipate heat away from and around the CPU. With all the same basic concepts and designs, the new improved version ICE 2 includes, copper tubes coated in nickel enhances tube hardness and rust-proof protection are filled with distilled water, effectively channels heat away, providing high efficiency processor and chassis cooling. Allows XPC to remain under a stable, cool, concise and silent condition.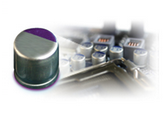 All Solid Capacitors
All solid capacitors design is the new trend for Shuttle's motherboard and guaranteed to deliver maximum stability, reliability and longer system lifetime for the ultimate PC gaming and entertainment experience.

Minimum of 80% Efficiency Guaranteed
The 80 PLUS ® performance specification requires power supplies in computers and servers to be 80% or greater energy efficient. This makes an 80 PLUS certified power supply up to 33% more efficient than current power supplies. 500W high efficiency & energy saving power supply of SX58H7 Pro is guaranteed by 80 PLUS BRONZE certification.