SX58J3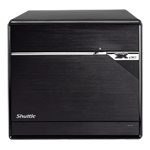 The Next-Generation Gaming PC Unleashed
The Shuttle SX58J3 minimizes enclosure space while provides greater flexibility to hardcore gamers. Intel Core i7 processor and up to 16GB DDR3 memory maximize performance to match almost every workload.
Supports Intel® Core™ i7 Processor Extreme Edition/Core™ i7 Processor
The SX58J3 supports the state-of-the-art Intel® Core i7 based processors in LGA1366 package delivering an incredible breakthrough in PC performance.

Conquer the world of extreme gaming with the fastest processor on the planet: the Intel® Core™ i7 processor Extreme Edition. With faster, intelligent multi-core technology that responds to your workload, it delivers an incredible breakthrough in gaming performance.

With faster, intelligent multi-core technology that automatically applies processing power where it's needed most, new Intel® Core™ i7 processors deliver an incredible breakthrough in PC performance.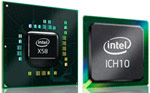 Enjoy Top-of-the-line Performance with Intel X58
The Intel X58 Express Chipset supports the latest 45nm Intel Core i7 processor family at 6.4 GT/s and 4.8 GT/s speeds via the Intel® QuickPath Interconnect. Also, this chipset feature dual X16 PCI Express slot with both ATI Cross FireX & NVIDIA SLI support.

Triple-Channel DDR3 1066/1333/1600(OC)
The SX58J3 supports DDR3 memory that features data transfer rates of 1600(OC)/1333/1066 MHz to meet the higher bandwidth requirements of the latest operation system, 3D graphics, multimedia, and Internet applications. The triple-channel DDR3 architecture triple the bandwidth of your system memory to boost system performance, eliminating bottlenecks with peak bandwidths.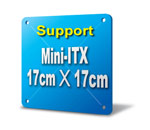 Mini-ITX Motherboard Support
Shuttle expands the capabilities of its chassis, adding support for Mini-ITX motherboards(170 x 170mm or 6.7 x 6.7 inches). Now, the Shuttle chassis can go beyond the Shuttle motherboard. You can easily upgrade the motherboard to your desire.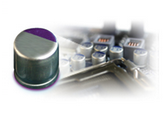 All Solid Capacitors
All solid capacitors design is the new trend for Shuttle's motherboard and guaranteed to deliver maximum stability, reliability and longer system lifetime for the ultimate PC gaming and entertainment experience.

Minimum of 80% Efficiency Guaranteed
The 80 PLUS ® performance specification requires power supplies in computers and servers to be 80% or greater energy efficient. This makes an 80 PLUS certified power supply up to 33% more efficient than current power supplies. 500W high efficiency & energy saving power supply of SX58J3 is guaranteed by 80 PLUS BRONZE certification.