SZ270R9
Light up the Battlefield
Shuttle, the leading mini-PC designer, introduces its new Gaming Mini-PC model SZ270R9, supports the 7th Gen Intel® Core™ i7 processor and set to deliver the best performance for gaming and VR use. With RGB lighting technology, the all-new R9 model can be truly adapted to represent your lifestyle by color scheme set up. Designed to performance enthusiasts, the SZ270R9 provides dedicated XPC Overclock Software and a hardware physical turbo button on the top of the front panel allows real-time overclocking using single button. Small as it gets, the new R9 chassis offers a space for up to four 3.5" Hard Disk and two NVMe SSDs, it is able to support large size dual-slot graphics cards. Built-in Dual Intel Gigabit LAN, 500 Watt 80 PLUS SILVER PSU, three M.2 and ten USB ports, the SZ270R9 comes packed powerful and expandability in a small package and it's definitely a gamer's pick to LAN parties.
Performance of Your Choice
With a wide range support of Intel® Core™ processors, the SZ270R9 lets you to take your game where you want it to go. The SZ270R9 features smooth 4K UHD video playback and offers power efficiency, high bandwidth 1.2V DDR4 2133/2400 memory support up to 64GB max capacity.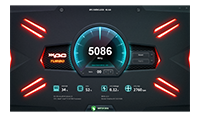 XPC Overclock Tool
Master your system with our XPC Overclock tool, used to monitor the system and CPU's temperature, usage, clock speed and voltage in real time to ensure the best system stability. The XPC Overclock took is available in eight languages and supports Windows 10 64-bit only.
*The overclock function is only available with unlocked Intel® Core™ processors (K series models).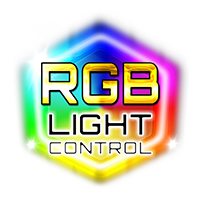 Your Style. Your Way
Personalize your gaming rig with XPC RGB light control function. With six built-in default colors, three different light effects, and an RGB pallet bar, you can easily adjust colors for different modes to give your SZ270R9 a personal touch.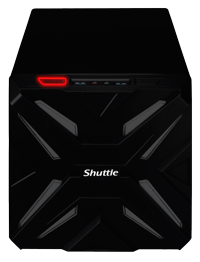 Instant Overclocking in One Touch
There is an easy way for instant performance boost. The SZ270R9 has a Turbo button on its top of the front panel, users do not need to set complex overclocking parameters through the BIOS, simply press the turbo button then automatically loads the most optimized overclocking configuration fast and easy.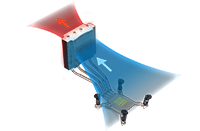 Proper Cooling While Gaming
Configured with four copper tube-pipes, Shuttle's patented I.C.E2 heat-pipe technology uses convection cooling to dissipate heat away from and around the CPU while operating at the sound of a whisper.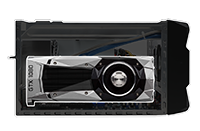 Perfect Spacing for Graphics in Small Box
Shuttle SZ270R9 all-new mechanism supports dual¬-slot graphics card to boost performance for gaming.
* Graphics Card size support max of 280x120x40mm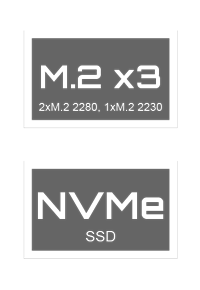 Performance
Shuttle's SZ270R9 supports the latest storage standards so users can connect any ultra-fast storage devices and accelerate performance, especially while gaming.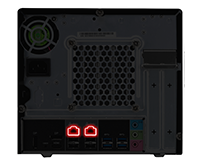 Dual Intel LAN
Built-in dual Intel Gigabit LAN with Teaming function means twice the transmission bandwidth, for effective high speed data transmission and faster, smoother gaming.
* Teaming is supported with Windows® 7
Immersive VR Experience
The best cutting edge technologies provide users with an impressive VR experience.