SZ68R5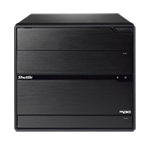 Greater Performance, Luxury and Quality
The Shuttle SZ68R5 features the latest Intel® Z68 Express Chipset and supports 2nd generation Intel® Core™ i processor. This platform delivers the most flexibility and performance for the LGA 1155 socket, providing the best built-in visual features of 2nd generation Intel® Core™ i processor family. It accommodates up to 32GB DDR3 memory which makes it an ideal workstation for users. The SZ68R5 offers an advantage of Intel's Smart Response Technology which enables an SSD drive to bolster the system performance. With a Shuttle Smart USB Port with 2 Amp power feed on the front, the SZ68R5 is able to speed charge the power hungry devices such as an iPad/iPhone. A 500 Watt power supply with 80 PLUS BRONZE certification comes pre-installed in the tiny footprint.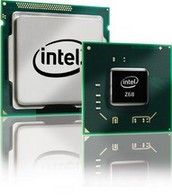 Single-Chip Chipset: Intel Z68 Express
The design of the Core i3/i5/i7 processors will eliminate the need for the traditional Northbridge found on previous generation mainboards. Thus the Shuttle XPC Barebone SZ68R5 sports Intel's Z68 Express Platform Controller Hub (PCH) from the Intel 6-Series "Cougar Point" family which integrates the hard drive controller, network controllers, monitor and physical interfaces, PCIe links and other input/output functionalities. Intel's Z68 chipset combines the advantages of the Intel® P67 (system tuning) and H67 (visual features) plus Intel® Smart Response Technology ("SSD caching").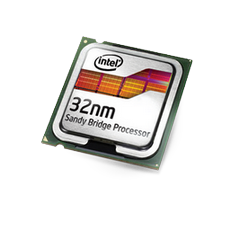 Supports the Intel 32nm Sandy Bridge Processor
Sandy Bridge is the most sweeping architectural transition from Intel since the introduction of Pentium 4. In addition to up to four CPU cores, the design incorporates the memory controller, PCIe links and the graphics processor. This integration brings higher performance, lower platform power consumption and more compact packaging.
The New R5 Chassis Design
Shuttle has always placed great emphasis on the interior and exterior aesthetics of the XPC, with the belief that a good blend of style and form factor allows the XPC to be attractive, versatile, and work well in almost any environment. R5 is the new chassis design for the middle to high-end series XPCs in the year 2012. The chassis and case cover are made of aluminum and come with a sleek brushed metal front fascia.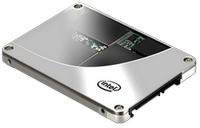 Intel® Smart Response Technology
The Shuttle XPC Barebone SZ68R5 supports the much anticipated Intel Smart Response Technology which allows a SATA solid-state drive (SSD up to 60GB) to function as cache for a conventional hard disk drive (HDD). It uses intelligent block-based caching of frequently used applications to improve system performance and responsiveness. This is allowing users to experience system performance similar to SSD-only systems and deliver a 60% performance improvement over HDD-only systems in PC Mark Vantage Suite. SRT is implemented in the device driver and firmware and it can be enabled, when the disk controller is configured in RAID mode (not AHCI or IDE).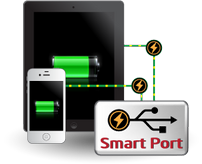 Smart USB Port for Apple iPhone/iPad
The Shuttle Smart USB Port is a USB port which allows fast power charging when a smart phone or tablet PC plugin is detected. It is designed to feed power up to 5V/2A(varies with different smart devices) no matter when the system power is on or off.
* Smart USB port compatible for Shuttle R5 series models
* 2A only available for Windows XP and Windows 7 O.S. The normal charge 500mA applies to other mobile devices and Linux O.S.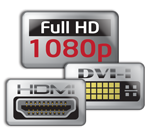 High Definition Multimedia Interface
The SZ68R5 provides HDMI and DVI-I port that is ideal for the 2nd generation Intel® Core™ processors with integrated graphics.
Supporting Dual-Slot Graphics Cards
With the space-efficient design, the SZ68R5 is as roomy as it gets. Not only it's space-saving but also it maximizes the need for high-end users and markets. The designs for dual-slot graphic cards provide the users a faster and smarter performance.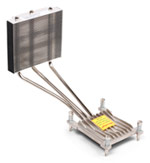 Integrated Cooling Engine Technology (I.C.E.)
Allowing XPC to remain under a stable, cool, concise and silent condition, the Shuttle I.C.E. heat pipe Technology uses convection cooling to dissipate heat away from and around the CPU. With all the same basic concepts and designs, the I.C.E. copper tubes coated in nickel enhances tube hardness and rust-proof protection are filled with distilled water, effectively channels heat away, providing high efficiency processor and chassis cooling.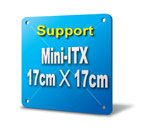 Mini-ITX Mainboard Support
Shuttle expands the capabilities of its R chassis, adding support for Mini-ITX mainboards (17 x 17cm or 6.7 x 6.7 inches). The Shuttle chassis can go beyond the Shuttle mainboard, so you can easily upgrade or downgrade the mainboard to your desire, without any modifications to the chassis.

80 PLUS BRONZE certified 500W Power Supply
The 80 PLUS ® performance specification requires power supplies in computers and servers to be 80% or greater energy efficient. This makes an 80 PLUS certified power supply up to 33% more efficient than current power supplies. 500W high efficiency & energy saving power supply of SZ68R5 guaranteed by 80 PLUS BRONZE certification. In addition, the power supply uses a 50mm cooling fan providing the same airflow, but spins slower than previous 40mm models to make the system run even more quietly.