SZ87R6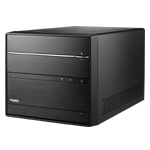 High-Performance Multi-Display & Video Wall
For commercial and application market, Shuttle launches the latest high-end business model--SZ87R6. It features latest Intel® Z87 Express Chipset and supports the Intel® Haswell processor, the latest fourth-generation Core™ i3/i5/i7 processor, integrating new Intel® HD Graphics core that supports Full HD/1080P video content; it is equipped with one PCI-E x16 slot(Support Dual Slot VGA card) that supports professional graphics cards for Video wall application. The SZ87R6 is built-in Dual Gigabit LAN that supports Wake on LAN and Teaming Mode, two Mini-PCIe slots, 10 USB ports(USB3.0*4), and optional RS232/LPT with strong expansion capability. It also provides watchdog, timer on/off function, exclusive silent mechanism design and Shuttle I.C.E 2 (Integrated Cooling Engine 2) heat pipe technology, allowing SZ87R6 to maintain high stability for long-term operation and saving the manpower and control costs. With high performance and strong expansion capability, SZ87R6 is the most suitable choice for multi-display, video wall and mini server.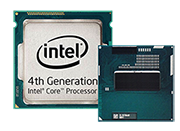 Intel® 4th Generation Haswell Processors
SZ87R6 supports Intel® fourth-generation Core i3/i5/i7 Haswell processor, built-in memory controller that supports dual channel DDR3 1600 MHz memory with maximum capacity up to 32 GB, and built-in DirectX 11.1 compatible with the Intel® HD Graphics that is significantly increased CPU or GPU performance. It also supports playback of Full HD video content.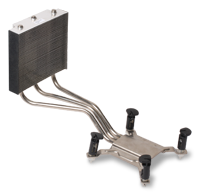 Integrated Cooling Engine Technology (I.C.E.)
Allowing XPC to remain under a stable, cool, concise and silent condition, the Shuttle I.C.E heat pipe Technology uses convention cooling to dissipate heat away from and around the CPU. With all the same basic concepts and designs, the I.C.E. copper tubes coated in nickel enhances tube hardness and rust-proof protection are filled with distilled water, effectively channels heat away, providing high efficiency processor and chassis cooling.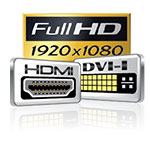 HDMI+DVI-I Video Output
At the back panel of SZ87R6 to feature HDMI and DVI-I dual display outputs, with fourth-generation Core™ i3/i5/i7 processor, integrating new Intel® HD Graphics core ,supports dual display screen and built-in 7.1 channel audio to play Full-HD video content for advertisement.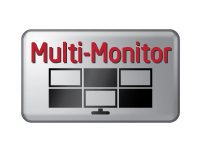 Support Multi-Display Graphic Card
With Shuttle exclusive mechanism design, the SZ87R6 is only 1/3 size of a traditional tower PC. The SZ87R6 is equipped with PCI-E x16 slot (support Dual Slot VGA card) which supports professional graphics cards for video wall application.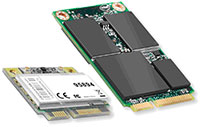 Support 2x Mini-PCIe Slots
Shuttle SZ87R6 features two Mini-PCIe slots. Half-size slot is able to use a WiFi card.In addition, there is another full-size slot to be able to use mSATA (Mini Serial ATA) SSD card with Intel® Smart Response Technology which allows a solid state drive to function as cache for a conventional hard disk drive (HDD). It allows ordinarily used programs and important files to be automatically saved to SSD to improve system performance and save procurement cost.

Support Dual Gigabit LAN
SZ87R6 features Dual Gigabit LAN ports that support Wake on LAN and Teaming function. Dual networking allows the computer to connect to a single network using two cables at once with an appropriate switch (teaming mode with load balancing or failover function) or to two different networks depending on the needs of theuser.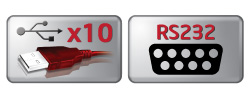 Strong Expandability
Built-in up to 10 USB ports and optional RS232/LPT, it can easily connect thermal printers, label printing machine and l barcode scanners as well as other peripherals to meet multiple applications.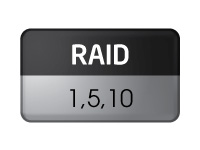 Superior Storage Capability
Shuttle SZ87R6 features Intel latest Z87 express chipset which fully support SATA 6Gbps. SZ87R6 is equipped with four onboard Serial ATA ports Revision 3.0 delivering high link speeds-6Gbps. A move from SATA 3 Gbit/s to SATA 6Gbit/s allows the new generation of Solid-State Drives to work at their full speed. Intel® Rapid Storage Technology enables SZ87R6 to offer greater levels of protection, responsiveness, performance and expandability by seamlessly storing copies of data on one or multiple hard drives. System downtime and data will be prevented and protected against the disastrous hard drive failures when System is configured as RAID 1, RAID 5 or RAID 10 model. Meanwhile, the fault tolerance function makes the data recovery easily after plugging in a good condition hard disk.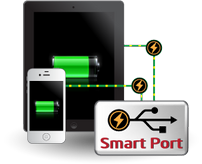 Quick Charge USB Port
The Shuttle Smart USB Port is designed in the front of SZ87R6 which allows fast power charging when a smart phone or tablet PC is detected. It is designed to feed power up to 5V/2A (varies with different smart devices) no matter when the system power is on or off.
*2A only available for Window XP and Window 7 O.S. The normal charge 500mA applies to other mobile devices and Linux O.S.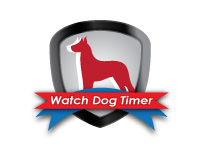 The Watchdog--Protecting System Security
Watchdog Timer provides excellent security protection for system that need to operate continuously for a long period of time. When a problem occurs, system can quickly recover normal operating status to provide the best security protection.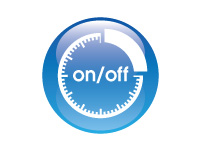 Timer ON/OFF Function
By using Timer ON/OFF Function with Windows or third party software, Shuttle SZ87R6 allow user to activate the system ON/OFF function. In doing so, system enable to operate automatically to fit the need of users. Moreover, this feature will benefit on the electricity and energy saving as well as the elimination the cost of on-site service.

80Plus Bronze Certified 500W Power Supply
Shuttle SZ87R6 is equipped with a 500W power supply of guaranteed by 80 PLUS BRONZE certification that features high efficiency and energy saving. Shuttle's 500W power supply is perfectly to be used to eliminate the unnecessary power consumption to achieve the higher level of certificate standard requesting energy saving and reduction of gas emissions of greenhouse.
Silent Mechanism Design
Shuttle SZ87R6 features low-power and low-noise design with its exclusive mechanism, smart fan and 80Plus Brpnze certified energy-efficient power supplies which can maintain high stability for long-term operation.
Commercial Custom Bios Service
For commercial customers, Shuttle provides BIOS-customized service. Based on different operating environments, we will assist customers to define the parameters and functions of the BIOS to meet the demand of OEM commercial customers.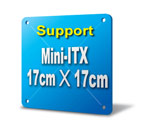 Support Mini-ITX Motherboard
For various market demands, Shuttle expands the capabilities of its chassis, adding support for Mini-ITX mainboards (17x17 cm or 6.7x6.7 inches). Shuttle chassis go beyond the Shuttle mainboard, so you can easily upgrade the mainboard to your desire without any modifications to the chassis.