TMS SERIES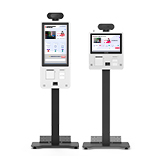 Temperature - Mask SafePass Kiosk
Since the fever is one of the commonly recognized symptoms of illness like influenza and COVID-19, temperature-scanning and mask-wearing have become commonplace while we enter public or commercial locations.
Shuttle's contactless temperature - mask safepass kiosk integrates with advanced AI and face detection technology. It allows visitors and employees to walk up to the kiosk and get temperature automatically without touching the screen and detecting whether they are wearing a mask through face positioning. This kiosk can be placed anywhere indoors, and now it with 15.6-inch and 21-inch panel available for option. It is ideal for hospitals, manufacturing, office buildings, schools, retails, and other venues to provide a safe employee and customer environment.
Feature
Intel® Core i5-8265UE/U Processor
1080P FHD, PCAP 10-point multi-touch screen with 21.5" and 15.6" options
Sturdy and robust SPCC metal enclosure
AI Face Recognition Thermometer
Multiple mounting supports: Freestanding, Desktop, Wall mount
Integrated 2D scanner, receipt printer, Smart Card Reader, NFC reader for self-service applications
Temperature detection distance: 60-100cm
Supports MQTT protocol、TCP Socket, Data Log and Access

Applicable Scenarios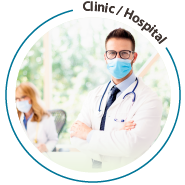 Clinics/ Hospitals
Face masks have been employed as personal protection to prevent infection and mitigate the virus's transmission. Shuttle's contactless temperature scanner kiosk can install in clinics and hospitals to help the frontline temperature scan and masks detection through the face positioning technology. It can be integrated with the institutions' existing management platform to record the scan status, send notification while detecting elevated temperature, even provide the self-check-in service to help streamline tasks, and improve the patient experience.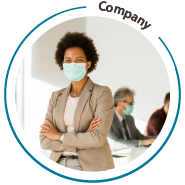 Company
Prevention is the key to protect yourself and others in the workplace. Designed with AI face recognition and modularization, Shuttle's contactless temperature scanner kiosk with automatic temperature-reading, and masks scanning can help ensure a safe work environment. It can be set up at the entrance where your employees or customers can enter or exit. This kiosk solution is available with a panel size of 15.6" and 21.5", supports multiple mounting methods; users can choose the right size to fit the space limitation.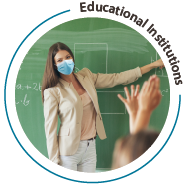 Educational Institutions
Many educational institutions are slowly reopening after a period of shutdown despite the ongoing pandemic. Ensuring the safety of the environment for staff, students, and parents alike become an important topic. Kiosk for measuring temperature and detecting the masks can help teachers, students, and non-teaching staff gets screened before entering the school premises. This kiosk offers fast and accurate temperature measurements; if anyone is found to have an elevated temperature, they can go for further medical testing.