X50/X50(B)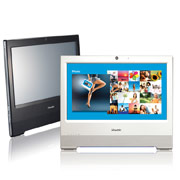 Your vision is just a touch away
It's something you want in the house, workplace, public area and more! Shuttle X50/X50(B) is a device for anyone, anywhere and anytime. Integrating state-of-the-art touch and small form technology, the X50/X50(B) offers intuitive interface that empowers both novices and professionals. The 15.6 inch all-in-one PC combines all the essential applications into a single device that starts up quickly with a simple touch of the screen by finger or included stylus pen. An easy carry handle and VESA readymount on the rear allows versatile application of the system in different work settings just by plug-and-play. You're sure in for a surprise with its slim and chic design as well as its easy and fun interface.

All in One
All-in-One
The X50/X50(B) packs beauty and power in one device. With a sleek, smooth, and streamlined design featuring an integrated touch enabled screen, it only takes little desk space.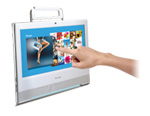 Touch Screen
The 15.6 inch intuitive touch interface puts everything at your fingertips. It offers easy and responsive operations for novices to working professionals using their finger or stylus pen.

Built-in Webcam and Microphone
The built-in 1.3 megapixel webcam and microphone make it easy to take pictures or stream live images across the Internet in real time chatting.

Slim & Chic
Ultra Slim
Designed to be elegant yet space-saving, the X50/X50(B) measures only as slim as 36mm.

Stand and Handle up to 180 degrees
The X50/X50(B)'s stand can be pulled up to serve as a carrying handle. You can select bending angels from 0-180 degrees to set whatever angle works for your environment.

VESA
The stand on the rear can easily be removed, unveiling four VESA mounting screw holes that can be used for mounting arms and other mounting devices from a variety of manufacturers.
* VESA was established in 1989 to set and support industry-wide interface standards designed for the PC, workstation, and other computing environments

Easy and fun
Communication
Just a touch to start instant messengers and keep you connected with your families, friends and social networking.

Entertainment
It's an easy luxury for you to enjoy movies, videos, photos, and music stored on your X50/X50(B). It can be utilized as a multimedia entertainment device to create your own happy hour.

Eco Friendly
All components and materials of the X50/X50(B) meet the rigorous standards of RoHs. Packaged with ENERGY STAR 5.0 qualified power adapter, it draws a mere 30 watts of power. The Shuttle I.C.E heat pipe inside effectively dissipates heat away and keeps the system cool with astonishing low noise at only 22 dB.