Home
> Products > Mini-PC & AIO >
All-in-one
> X50V2 PL / X50V2 PL (B)
X50V2 PL / X50V2 PL (B)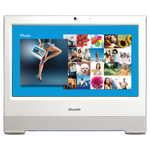 Everything you need....All in one
The Shuttle X50V2 PL is an all-in-one PC featuring a stunning 15.6-inch LCD screen and it is powered by Intel Atom D525 dual-core processor. Intended for use at your home and office, the X50V2 PL takes up to 4GB of DDR 3 memory, a 2.5 inch hard disk drive and runs Windows 7 or Linux O.S. Intel's GMA3150 onboard graphic, provides over the top performance for daily computing such as browsing the web. Along with build-in webcam, speakers, SD card reader, wireless connection and all other applications, user can liberate their imagination with an affordable price. This is a full featured desktop that will let you pick up work in no time. Designed for users who like it the traditional way, the X50V2 PL comes with a non-touchable screen.

All-in-One
The X50V2 PL contains style and power in one device. With a sleek, smooth, and streamlined design, it only takes up a little space and fits into any environment..

Ultra Slim
This sleek all-in-one design is not only packed with powerful features, it's a mere 36mm (1.4 inches) slim. This all-in-one has more performance for its size than virtually anything else on the market.

Built-in Webcam and Microphone
The built-in 2 megapixel webcam and microphone will make it as easy as you can imagine. With just one finger click, taking photo or stream live images across the Internet in real time chatting in no time.

VESA Mount Capability
Designed to fit seamlessly into your urban lifestyle, the convertible stand on the Shuttle X50V2 PL is compatible with the VESA standard. It's ready for any standard mounting device and designed for a space-saving environment.

Convertible Stand
The unique stand on the Shuttle X50V2 PL can be easily customized to the way you work and play. It can be set from 0 to180 degrees, to an angle that would work best for your environment. What's more, the stand works alternatively so it can be pulled up to double as a carrying handle for easy portability.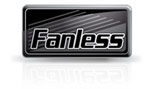 Fanless
The X50V2 PL features a cooling system that combines and integrates heat-sink with thermal pads – this creates a fanless design. It's not only quiet but also dust and maintenance free.

All-in-One Entertainment
With the most powerful processor in its class, the Shuttle X50V2 PL makes it easy for you to enjoy your favorite music, movies, and videos. It's perfect for your urban environment and everyday entertainment.

Always Eco Friendly
Shuttle ensured that all components and materials follow the green guidelines of RoHS, for a package that's greener and better for the environment than you can ever imagine. Plus, with an ENERGY STAR 5.0 qualified power adapter, it's even easier on your energy bill, drawing a mere 40 watts of power.