Home
> Products > Mini-PC & AIO >
All-in-one
> X50V2 PLUS / X50V2 PLUS (B)
X50V2 PLUS / X50V2 PLUS (B)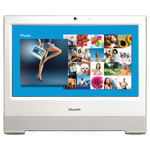 All-in-One PC Ultimate
This is it! Something you want in the house, workplace, and anywhere! The X50V2 Plus is the new edition of Shuttle all-in-one PC series with 15.6-inch touch screen LCD and is powered by Intel Atom D525 dual-core processor. Intended for use in the everyday environment, the X50V2 Plus takes up to 4GB of DDR 3 memory, a 2.5 inches hard disk drive and runs Windows 7 or Linux O.S. Intel's GMA3150 onboard graphic, provides generous performance for daily computing with internet, KIOSK, digital signage or kinds of applications. A webcam, built-in speakers, SD card reader, W-LAN and all other features leave nothing you could ask for.

Everything You Need, Right At Your Fingertips
All-In-One Design
The new Shuttle X50V2 Plus has packed everything you need into one sleek, chic, and clean-lined design with the touch-screen capabilities. The all-in-one design fits into any area whether in bedroom, living room, or work place.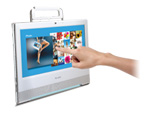 Simply Touch
Scroll. Zoom. Rotate. Flip. With the new X50V2 Plus, Shuttle introduces a better touch technology that's a more functional way to work and play. Scroll through documents or manage your photos and videos with simple finger taps and hand gestures.

Built-In Webcam and Microphone
The built-in 2 mega pixel webcam and microphone makes it easy to take pictures or stream live images across the Internet - and connect in real-time with friends, family, and colleagues.

Slim & Chic, for the Modern Lifestyle
Ultra Slim
The sleek, all-in-one design is not only packed with powerful features, it's a mere 36mm (1.4 inches) slim. This all-in-one has more performance for its size than virtually anything else on the market

Convertible Stand
The unique stand on the Shuttle X50V2 Plus can be easily customized to the way you work and play. It can be set from 0 to180 degrees in which angle would work best for your environment. What's more, the stand is convertible so it can be pulled up to double as a carrying handle for easy portability.

VESA Mount Ready
Designed to fit seamlessly into your urban lifestyle, the convertible stand on the Shuttle X50V2 Plus is able to use VESA standard. It's ready for any standard mounting device and fit into any of your environment.

Always Green
Eco Friendly
Shuttle ensured that all components and materials inside follow the green guidelines of RoHS, for a package that's greener and better for the environment than you can imagine. Plus, with an ENERGY STAR 5.0 qualified power adapter, it's even easy on your energy bill, drawing a mere 40 watts of power.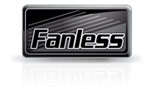 Fanless
The X50V2 Plus features a cooling system that combines and integrates heat-sink with thermal pads - and removes the fan. It's not only quiet but also dust-free.

Simply Fun
Communication
Keeping connected with family, friends, and colleagues is easier and more convenient than ever before. The touch interface requires just a simply touch to start your chats and conversations.

Entertainment
With the most powerful processor in its class, the Shuttle X50V2 Plus makes it easy for you to enjoy your favorite music, movies, and videos. It's perfect for your urban environment and everyday entertainment.