X50V5 SERIES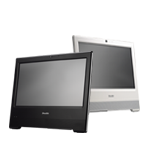 A Fanless All-in-one PC for business solutions
Shuttle's X50V5 with 15.6-inch touch screen is powered by Intel® Celeron® 3855U dual-core processor. This All-in-One PC is made to drive KIOSK, POS, POI, and queuing systems. Shuttle's stylish AIO is VESA mountable and is easily mounted on the wall or propped up with a stand. The X50V5 front panel features IP54 design which is dust-protected and protected from splashing of water. Thanks to its fanless design, the X50V5 has been approved for 24/7 nonstop operation and tested to ensure long-term stability and silent operation. In addition, the X50V5 offers a PCL71 accessory (RS232, RS232/RS422/RS485, and parallel port) and a POS01 accessory (RS232, RS232/RS422/RS485, Parallel Port, and DIO port) easily to connect with cash drawers, bar code scanners, and other peripheral devices.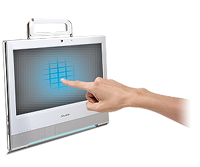 Simply touch
The 16:9 15.6" single touch screen does not require a mouse and keyboard, making it particularly suitable for interactive kiosk and point-of-sale applications.

IP54 design
The X50V5 front panel is IP54 certified for dust and splash water resistance. It can be used for those indoor applications, where the touch screen may be exposed to humidity and occasional splashing of water.
Intel® Celeron® dual-core processor
The X50V5 supports the latest Intel® Skylake-U platform technology. It is equipped with an Intel® Celeron® 3855U 1.6Ghz dual-core processor with max TDP of 15W, memory frequency support for up to DDR3L-1600, and built-in Intel® HD Graphics to play Full HD/1080P contents.

Support three independent displays
The rear panel of X50V5 provides HDMI and D-sub video outputs, which can be connected to the other two monitors to support three independent displays. Use an adaptor to convert HDMI into DVI for diversified signal selection.

Fanless design
The unique fanless design eliminates the power consumption required by a fan as well as the cost of replacing fans. Use solid-state disks and create a noise-free operational platform.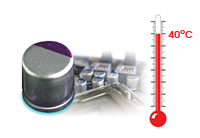 Operable in 0-40 ⁰C ambient temperatures
The X50V5 uses industrial capacitors and is suitable for 0 ~ 40 ⁰C ambient temperatures* to meet the environmental operation demands of commercial applications.
*With use of SSD and Wide Range Temp. SODIMM

24/7 Certified
Made with high quality material and Shuttle exclusive heat pipe cooling technology, the X50V5 is approved for 24/7 nonstop operation to keep things cool for long-term operation.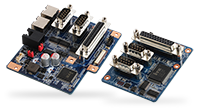 Optional COM, LPT, and DIO ports
The X50V5 offers a PCL71 accessory (1*RS232, 1*RS232/RS422/RS485, and 1*parallel port) and a POS01 accessory which is provided one RJ11 type DIO port (support 12V/24V), one Parallel Port, one RS232, one RS232/RS422/RS485, and one RJ45 type RS232 as well as one RJ45 type RS232/RS422/RS485 for various kiosk, digital signage, and POS applications needing to connect with cash drawers, bar code scanners, and other peripherals. The RS232 and RS232/RS422/RS485 ports are 0V/5V/12V compatible.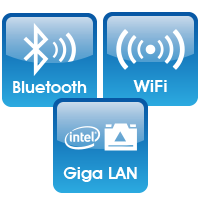 Support wire and wireless high-speed networks
The X50V5 has one built-in Intel® Gigabit LAN interface and Realtek RTL 8821AE b/g/n/a and BT combo wireless network card. Transmission rates reach up to 433.3 Mbps for significantly enhanced data transfer efficiency and operation speeds. It also supports Wake On LAN function so that users can turn on the X50V5 from the sleep mode, rest mode, or when powered off via the internet.
*Please refer to spec sheet for detailed WiFi support
USB3.0 High Speed Transmission
The back panel of X50V5 provides USB 3.0 ports which support up to 5 Gbps, providing 10 times greater data access speed than a USB 2.0 port.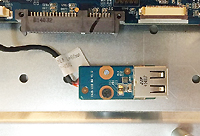 Internal USB port – Theft Protection
Internal USB ports ensure theft protection as USB connected devices are guarded within the chassis. In addition to the USB ports at the front and back panel, the X50V5 provides one USB 2.0 port inside the chassis so users can install a USB TV tuner, USB 3G Module, or other USB expanders.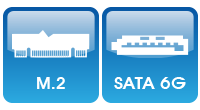 Flexible configuration of storage
The X50V5 features SATA 6Gbps high speed storage interface. It can be configured with a 2.5" hard disk or SSD, but also provides one M.2 (2280) expansion slot for installing M.2 SSD or other compatible devices.

Supports Power on by RTC
Enter BIOS to set up the Power on by RTC function that allows you to set a time to boot up the computer and to turn off with the Windows task scheduler. This feature means saving electricity and energy as well as eliminating the cost of on-site service.
The Watch Dog
Use Shuttle's Watch Dog utility to maintain the normal operation and stability of the system at all times.

VESA Mount
Remove the stand at the rear of X50V5 and the device is VESA compatible for a variety of commercial applications.
Multiple Operating System Support
- Window 7
- Window 8.1
- Windows 10
- Linux