XH170V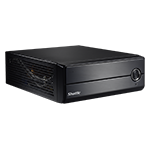 Supports 4K & Intel® Skylake Platform -XH170V Slim PC
Shuttle's all-new XH170V slim PC is equipped with the Intel® H170 chipset and supports the latest Intel® 6th Generation Skylake LGA 1151 65W processor. The Intel® built-in graphics engine supports 4K/Ultra HD video playback providing stunning clear images. The XH170V delivers content to three screens independently via one HDMI and two DisplayPort and has a wide range of I/O connectivity, including USB 2.0, USB 3.0, SATA 6Gbps, RS232, Mini PCIe, and Intel® Gigabit LAN. With one built-in M.2 and one Mini PCIe expansion slots, you can install an M.2 SSD, Wi-Fi module or other compatible devices providing strong expansion capability and network connectivity. The HX170V features Shuttle's heat pipe cooling with smart fan technology and is 24/7 certified and able to operate within 0-50 ⁰C temperatures to meet the requirements of diverse applications whether in Digital signage, Kiosk, HTPC, or office PC.

Support Intel® 6th generation Core™ processors
Equipped with the new LGA 1151 socket, the XH170V supports Intel® 6th Generation (Skylake) Core™ i3/i5/i7, Pentium®, and Celeron® 95W processors. Built-in DirectX 12 compatibility with the Intel® HD Graphics significantly increases CPU or GPU performance.

Equipped with an Intel® 100 series Chipset
The XH170V is equipped with Intel® H170 chipset and supports dual-channel DDR3L 1600 with the maximum memory capacity of up to 32GB (16GBx2). The XH170V also supports Intel® Gigabit LAN, SATA 6Gbps, and USB3.0 high-speed storage interfaces, providing superb data transfer speed.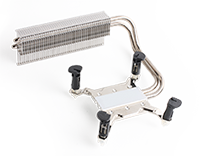 Heat pipe cooling technology
The XH170V features Shuttle's exclusive heat pipe cooling module with smart fan design. The precise vent design allows for constant air circulation between the inside and outside of the machine, resulting in high stability and low noise for long-term operation.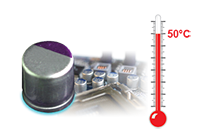 Industrial Solid Capacitors = High Stability
The XH170V uses industrial capacitors in order to meet the environmental operation demands of commercial applications. Its rugged design allows for 24/7 stable operation over long periods of time – even in 50⁰C environments*.
* With use of SSD and Wide Range Temp. SODIMM

Support 4K Ultra HD
HDMI and DisplayPort video outputs support 4K high resolution (3840x2160). Now with four times the resolution of Full HD, viewers can enjoy the crystal clear imaging of 4K.

Support three independent displays
The XH170V provides two DisplayPort and one HDMI video outputs to support three independent screens. Use an adaptor to convert HDMI into DVI interface and DisplayPort into HDMI or DVI interface for diversified signal selection.
*For triple display: convert two DisplayPort signals into HDMI or DVI with one active and one normal DisplayPort to HDMI or DVI cable (adapter).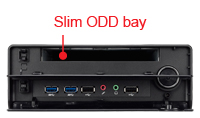 Add extra storage or an ODD
Users can install additional storage and/or a slim line ODD with two 2.5" storage drives and a slim line ODD or three 2.5" storage drives (SSD/HDD)*
*Note: Installation of ODD is not compatible with three SSD/HDD configurations.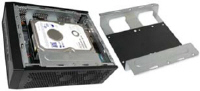 Supports an optional 3.5" HDD
The XH170V supports installation of an optional 3.5" HDD rack for increased storage through purchase of PHD4 accessory.
*Note: Installation of ODD is not compatible with 3.5" HDD configuration.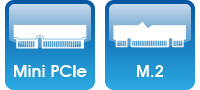 Support M.2 and Mini PCIe expansion slots
The XH170V includes one M.2 2280/2260/2242 slot with type M and one half-size Mini PCIe slot to install an M.2 SSD, Wi-Fi card or other compatible devices, proving a strong expansion capacity.

Built-in Intel® Gigabit LAN
The XH170V has built-in an Intel®10/100/1000 Mbps LAN interface and supports the Wake On LAN function and increased compatibility for business network environments. In addition, the XH170V can be set to sleep mode, rest mode, or when powered off remotely via the internet.

Great connectivity
The XH170V features four USB3.0 and four USB 2.0 ports as well as one RS232 port designed for applications in a variety of industries for peripherals such as thermal printers, label printers bar code scanners and more. In addition, an adaptor can be used to convert RS232 to USB.

24/7 Certified
Approved for 24/7 operation, the system uses smart fan and heat-pipe technology to keep things cool for extended periods of operation.

Support Power on by RTC
The XH170V can accept BIOS settings to enable the RTC function that allows you to set a time to boot up the computer and to turn off with the Windows task scheduler. This feature means saving electricity and energy as well as eliminating the cost of on-site service.

Watchdog Security Protection
Watchdog Timer provides excellent security protection for systems that need to operate continuously for long periods of time. If a problem occurs, the system will quickly recover normal operating status for seamless security protection.

Support optional VESA Mount
Designed to blend seamlessly into home and workplace environments, the XH170V is able to be mounted on the rear of LCD monitors with an optional PV02 VESA mount accessory.
Multiple Operating System Support
-Windows 7
-Windows 8.1
-Windows 10
-Linux