XH310/XH310V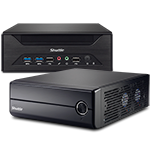 Great Value Versatility: 3-liter 4K PC with Next-Gen Performance
Designed for use as a space-saving media player, the 3-liter XH310 and XH310V are proving their great value to versatile applications. These slim sized media players deliver multi-core performance and are able to fulfill needs for demanding tasks with the Intel® 8th gen processors. With a selection of three video outputs, users can have better flexibility to run simultaneous dual displays. In terms of extra I/O capabilities, the series features USB 2.0, USB 3.1 Gen 1, SATA 6Gbps, RS232, M.2 and dual Gigabit LAN. Moreover, 12V DC input is available as a flexibility option for more diversified applications. With a slim ODD bay feature to meet storage and different project needs, the series sets itself apart from other slim models, does fear no challenge in serving as a media player for Digital Signage, Kiosk, Surveillance Client or any other situation.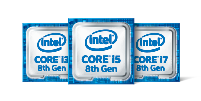 Intel® 8th Generation Processors
The XH310 series is designed with Intel® H310 chipset and available with the 8th Gen Intel® Core™, Pentium® and Celeron® processors in the LGA1151v2 package. With new processors up to 6 cores, the platform supports up to 64GB (32GB x 2) of DDR4-2666 memory, integrated UHD graphics and PCI-E controllers to support onboard graphics output for outstanding graphics performance.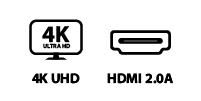 4K UHD Experience
The XH310 series features one HDMI (version 2.0a) output to support 4K@60Hz resolution (4096 x 2160) at a maximum of 60FPS as well as transmission of high dynamic range (HDR) video, which allows viewers to enjoy the vivid streaming, higher contrast ratio, and more accurate color from HDR-compatible displays and TVs.

Dual Display Productivity
Simultaneously support for dual displays with built-in HDMI, DisplayPort and VGA outputs, the XH310 series meets the productivity benefits and provides dynamic visualization for multitasking and digital signage applications.
*H310 chipset natively supports up to two displays at the same time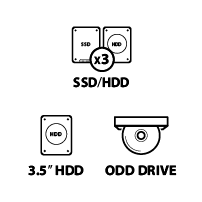 Flexible Storage Expansion
The XH310 series is equipped with an ODD bay, allowing users to install additional storage and/or a slim line ODD or three 2.5" storage drives (SSD/HDD). Meanwhile, the models also support 3.5" HDD for increased storage with an optional accessory PHD4.
*Installation of ODD is not compatible with three SSD/HDD or 3.5" HDD

High Storage Capacity with M.2
With native M.2 2280/2260/2242 key M and one M.2 2230 key E slots, the XH310 series offers considerably faster storage performance and expansion capacity for M.2 SSD and Wi-Fi modules.
*M.2 supports both SATA and PCIe storage interfaces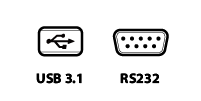 Excellent Connectivity
The XH310 series features four USB 3.1 Gen 1 ports, three USB 2.0 ports as well as two serial ports (one RS232 and one RS232/422/485) for convenient, flexible connectivity options. Users can also have three extra serial ports for more peripheral uses through purchase of accessory PCM31.

High-Speed Dual Gigabit LAN
The XH310 series has built-in dual Intel® i211 Gigabit LAN and supports Wake On LAN and Teaming Mode function to provide high-speed data transfer capability and thus a better business networking integration.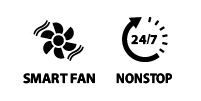 24/7 Cooling Technology
The XH310 series features Shuttle's exclusive heat-pipe cooling system with smart fan design. The clever ventilation design allows for constant air circulation between the inside and outside of the machine, which guarantees high stability, low noise and 24/7 operation.

Operable in 0-50⁰C
The XH310 series uses industrial capacitors in order to meet the environmental operation demands of commercial applications.
*With use of SSD and Wide Range Temp. SODIMM

VESA Mount-Ready
The XH310 series is VESA mount compliant and allows for versatile integration into hardware systems. This space-saving capability is well-suited for digital signage and kiosk applications with limited space.

Support Power on by RTC
Save energy costs as well as the cost of on-site service with Power-On by RTC function. Set automatic 'Power On' and 'Power Off' times by RTC via BIOS. Power on by RTC can also be turned on and off with the Windows task scheduler.

The Watchdog
Watchdog Timer provides excellent security protection for systems that need to operate continuously for a long period of time. Use Shuttle's Watch Dog utility to maintain normal operation and stability of the system at all times.
Operating System Support
- Windows 10 64bit
- Linux