XP19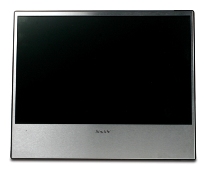 Xtreme Your Vision
Experience the optimized and colorful image with Shuttle XP19 immediately!
XP19 offers well-defined images with its stylish and elegant appearance. Featuring 24Slim™ body for the space saving and the slim frame border to maximize the vision. Especially the 5ms fast response time delivers outstanding image quality definitely gets you to the true-to-life entertainment.
The conveniently integrated speaker provides incredible audio experience and the friendly on screen display lets the users individualize the visual preferences while enjoying the stunning XP19.
XP19 is definitely ideal companion for various applications to extreme your vision and life. Never miss XP19 if you want to look good with a good look monitor.

Superb visual appeal
XP19 is created specifically for the Shuttle PC delivers exceptional style and performance wherever you need it. The frame border is finished in a high-gloss silver to collocate the grace black pedestal. Featuring the sleek and modern design looks beautifully with Shuttle PCs in any environment. It's also nice to accommodate everyone.
Free up your space, 24Slim™ Stylish Design
Throw away the thick and heavy monitors! XP19 helps to save more space to work and play on your desk with the super slim profile! The ultra-thin design in 24Slim™ not only requires relatively little space but also offers a contemporary look.
Friendly OSD control
For the best image quality, XP19 provides the friendly on screen interface to adjust the performance characteristics of the monitor easily. Users can customize the settings for individual viewing preferences.


Blazing 5 ms response time
Response time is essential for virtual reality. If the response time is slow, it will affect the quality of moving images. To minimize the image distortion, the design of XP19 enhances the monitor performance with the ultra-fast response to deliver the sharp and impressive motion images, no matter for video watching or gaming.
Expand your view
The extraordinary design of 9mm slim LCD frame border makes the 19" screen to maximize the screen size, which could be fully viewable to let you enjoy the digital entertainment most.

Integrated Speaker
Save the money and enjoy the better sound. A conveniently hidden speaker adds to the streamlined look, which can bring you superior sound without any extra speakers.


Expansion display for superb usability
XP19 can be connected to the digital displays conveniently with a VGA D-sub, like the projector and the big screen TV. You can share the content with your family and colleagues in the simplest way, without getting crowded in front of the screen.