XS35GS V3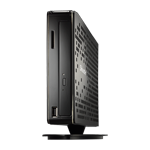 The Power-Packed Nettop
The Shuttle XS35GS V3 comes with Intel® Atom™ Processor D2700 based on Intel's next generation Cedar Trail platform which carries dual processing cores. The XS35GS V3 carries an AMD Radeon HD 7410M graphics card which makes it a powerful nettop to handle heavier-duty graphics. It perfectly hits the balance between performance and energy efficiency. In addition, the slim PC XS35GS V3 is designed as a space saver that fits easily into any environment with the ability to be mounted behind a LCD TV or LCD monitor with VESA mount capability. Using passive cooling, the XS35GS V3 is quieter than most desktop computers. It's not only quiet and low in energy use, but also dust-free and virtually maintenance free. The XS35GS V3 is a good solution for users who look for a low-power media center PC.
Intel® Atom™ Processor D2700
The Intel® Atom™ Processor D2700 delivers low power, enabling small, quiet desktops in new places around the home. The Intel Atom processor, combined with the Intel® NM10 Express Chipset, offers best-in-class capabilities. Getting online, having fun and getting things done are just like a breeze.

Graphics Performance Upgraded
The XS35GS V3 is equipped with an AMD Radeon HD 7410M graphics card that satisfies heavier load in graphics design and some 3D gaming. It not only provides better performance for 3D rendering and HD video playback, but also supports supports HDMI output. With support for Microsoft® DirectX® 11, the XS35GS V3 gets amazing visual quality, improved efficiency and dramatic gaming performance.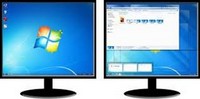 Dual Display Support
The XS35GS V3 supports HDMI and D-sub dual monitor video outputs which allow users to switch between mirrored and extended desktop mode on external displays. Designers and those in other professions can get more work done and has an increase in productivity.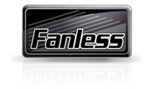 Fanless Design- Quiet, Dust-Free, and Energy-Efficient
It's a conventional way using a fan as a cooling solution to dissipate heat away inside a computer. It usually generates noise, draws dust into the system as well as takes up the inner space. The Shuttle XS35GS V3 is completely fanless to ensure the passively cooled, quiet, dust-free and low in energy use operating environment.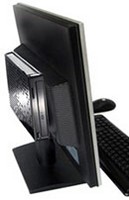 VESA Mount Capability
Designed to fit easily into any environment, the Shuttle XS35GS V3 Slim PC is capable of mounting to the rear of a LCD monitor or a TV with the standard of VESA mounting. This space saving capability makes it easy to blends into any of your environment.
Generous supply of I/O ports
The XS35GS V3 also features with 5 USB ports, SD card reader, HDMI and D-sub connector and Kensington lock for further applications. Whether you are in the living room, bedroom, study room or office, the Shuttle XS35GS V3 is touted as the ideal PC for your everyday computing.