XS35GS V3L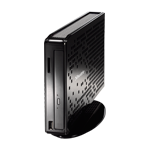 Tailored for HTPC & Office system
The Shuttle XS35GS V3L comes with the latest Intel® Atom™ Processor D2550, build-in AMD Radeon HD 7450M graphics card, powerful slim design provide users better 3D display performance, smooth play Full HD 1080p Blu-ray high-definition video and audio. In addition, the fanless design can ensure a passively cooled, quiet, dust-free and low energy consuming operating environment. The slim and compact design meets the requirement of VESA Mount Standard, which can be mounted to the rear of the monitors or TV. If you are looking for a small but powerful HTPC or office system, the XS35GS V3L could be your choice.
*The XS35GS V3L upgrades discrete GPU from AMD Radeon™ HD 7410M to HD 7450 since 2014.
Intel® Atom™ D2550 Dual-Core Processors
The shuttle ultra slim XS35GS V3L comes with power-saving Intel® Atom™ D2550 dual-core Processor, and Intel® NM10 Express Chipset, with best-in-class capabilities for various applications.
Advanced Graphic Performance
Shuttle XS35GS V3L special built-in AMD Radeon™ HD 7450 graphic card fully support for DirectX® 11, enhanced 3D performance and smooth playback of Full HD 1080p Blu-ray high-definition video and audio, provides users with better 3D display performance.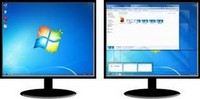 Dual Display Support
The XS35GS V3L supports HDMI and D-sub dual monitor video outputs which allow users to switch between mirrored and extended desktop mode on external displays. Designers and those in other professions can get more work done and has an increase in productivity.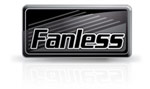 Fanless Design- Quiet, Dust-Free, and Energy-Efficient
It's a conventional way using a fan as a cooling solution to dissipate heat away inside a computer. It usually generates noise, draws dust into the system as well as takes up the inner space. The Shuttle XS35GS V3L is completely fanless to ensure the passively cooled, quiet, dust-free and low in energy use operating environment.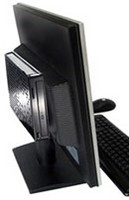 VESA Mount Capability
Designed to fit easily into any environment, the Shuttle XS35GS V3L Slim PC is capable of mounting to the rear of a LCD monitor or a TV with the standard of VESA mounting. This space saving capability makes it easy to blends into any of your environment.
Generous Supply of I/O ports
With the slim PC's advantages, XS35GS V3L is small but has multiple I/O ports, contains five USB ports, SD card reader, HDMI and D-sub connector and Kensington lock for computer security.
24/7 nonstop operation
Shuttle XS35GS V3L is officially approved for 24/7 permanent operation. Thanks to its low power consumption and completely passively cooling, this PC runs highly reliable making it perfectly suitable for digital signage and other vertical applications.