XS35V2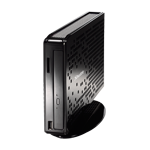 Slim and Revolutionary
The XS35 V2 is so slim that its just 38.5mm, while this slim PC is ideally designed for space-saving where space is critical. It fits easily into any environment, and the ability to be mounted behind a LCD TV or LCD monitor with VESA mount capability gives it the extra score on your list. The internal layout has been meticulously engineered to require no fan, so it's not only quiet and low in energy use, but also dust-free and virtually maintenance free.

Intel® Atom™ Processor D525
The Intel® Atom™ Processor D525 delivers low in energy, enabling small, quiet desktops in new places around the home. The Intel Atom processor, combined with the Intel® NM10 Express Chipset, offers the best-in-class capabilities. Web browsing, editing your favorite phone or have tasks done are just like a breeze.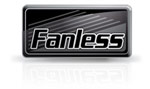 Fanless Design- Quiet, Dust-Free, and Energy-Efficient
The conventional way is using a fan as a cooling solution to dissipate heat away inside a computer. It usually generates noise, draws dust into the system as well as taking up volume of the PC body. The Shuttle XS35 V2 is completely fanless to provide a passively cooled, quiet, dust-free and low in energy use operating system.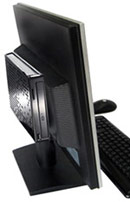 VESA Mount Capability
Designed to fit easily into any environment, the Shuttle XS35 V2 Slim PC is capable of being mounted to the rear end of a LCD monitor or a TV with the standard of VESA mounting. This space saving capability makes it easy to blends into any of your favorite interior.
Generous supply of I/O ports
The XS35 V2 also features 5 USB ports, SD card reader, D-sub connector and a Kensington lock for further applications. Whether you are in the living room, bedroom, study room or office, the Shuttle XS35 is touted as the ideal PC for your everyday computing.