SS21T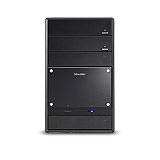 NanoBTX form factor
NanoBTX form factor with business looking for a more traditional styled desktop but still with the benefits of a reduced size. The SS21T combines the best industrial standards of ATX and BTX, maintains the sleek style, reduces the cost, considers the expandability and compatible upgrade, and adopts the best effortless assembly architecture and thermal dispersion solution. The conventional Shuttle-style chassis design has been empowered the SS21T with AM2 platform to carry the most profitable value to business users.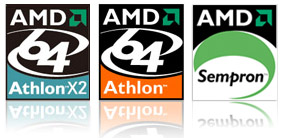 AM2 Socket Processor Support
The SS21T supports the entire range of AMD socket AM2 processors:
Athlon™ 64 X2
advanced dual core technology for multitasking and
digital media
Athlon™ 64
high performance 64
and 32-bit features for mainstream users
Sempron™
offer affordable performance, and compatibility with all the applications

SiS® 761GX and SiS® 966L
The SiS® 761GX, supports AMD socket AM2 processors, features HyperStreaming Technology, Dual-channel DDR 800 memory, a PCI Express x16 graphics, MuTIOL® 1G Technology, SiS® Mirage™ 1 Graphic engine, Advance Host Controller Interface (AHCI), ATA UltraDMA 133, and 1.5Gb/s SATA (NCQ) interface.

SiS® Mirage 1 Graphics engine
For everyday office productivity or mainstream uses the SiS® Mirage 1 Graphics engine integrated within the SS21T delivers high-quality visual performance at a low cost price point.
PCI Express x16
The PCI Express architecture enables increased bi-directional bandwidth to the graphics and I/O interfaces, the SiS® 761GX PCI Express X16 graphics, integrates a x16 Host-to-PCI Express bridge that is a compliant with PCI Express Spec. 1.0a. Also it supports PCI Express base frequency 2.5GHz, and bandwidth per pair of 250MB/s, the maximum bandwidth up to 4GB/s of each direction in x16 configuration.
NCQ Interface
Supports 1.5Gb/s SATA NCQ (Native Command Queuing), it simultaneously coordinates up to 32 instructions to be queued and reordered by the hard-disk controller. The ATA UltraDMA supports RAID Level 0, and RAID Level 1. The extension to ATA UltraDMA interface is up to 133MB/sec transfer rate.
5.1 Audio
The SS21T comes equipped with onboard 5.1 channel audio to deliver high quality sound at no extra cost. Ideal for the business, the SS21T allows you to enjoy the theater-like surround sound.
Advanced I/O
The SS21T offers ample I/O connectivity, and then some. Features, such as USB port, RJ45 Ethernet port, D-Sub VGA port, line in connector, line out connector, serial port, earphone, and microphone built into this sexy front panel.