XH510G2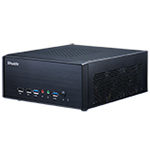 4.75-liter Space-Saving Volume Build on a Solid Foundation with PCI-Ex16 Slot
Shuttle XPC slim XH510G2 equips with Intel® H510 chipset, which expertly supports Intel® 11th Gen LGA1200 65W Core™ CPU delivers high-performance computing for applications that demand high-speed processing and computer vision. Despite its 4.75-liter compact chassis, XH510G2 provides a PCI-Ex16 slot to install an extra dual slot graphics card, capture card, or more to meet diverse application requirements. The XH510G2 also offers multiple interfaces to connect peripherals, including 4x USB 3.2 Gen1, 4x USB 2.0, an HDMI 2.0, a DisplayPort 1.4, SATA connectors, M.2 slots, and Intel® Gigabit LAN. These scalabilities provide all the fundamentals to boost daily productivity. It is perfect for the video wall, POS server, surveillance, professional creators, and Kiosk applications.
Intel® 11th Generation Core™ processor
Based on the H510 chipset, XH510G2 is engineered to unleash Intel® 10/11th generation Core™ series, Pentium®, and Celeron®. Intel® 11th Rocket Lake platform is integrated with Intel® UHD graphics 750 for 4K UHD resolution content and supports up to 64GB (32GBx2) of superfast DDR4-3200 memory speeds to handle high loads effortlessly. As a result, the performance in IPC is nearly 20% stronger than the previous 10th processors.

Dual-Display Productivity
XH510G2 supports two independent displays via one HDMI 2.0 and one DisplayPort 1.4, providing productivity benefits and dynamic visualization for multitasking applications.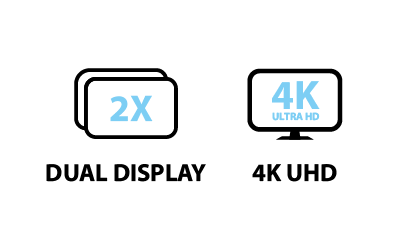 Integrated Dual PCI-E Slots with One PCI-E x 16 and One PCI-E x 1
Despite a small volume, XH510G2 supports dual PCI-E expansion slots, with one PCI-E x 16 and one PCI-E x 1. The built-in PCI-E x 16 slot can be easily set up for any external expansion card to meet diverse applications. In addition, for some applications requiring a higher power supply, the optional expansion accessory PRC01* can bring 270W additional power for high-level graphic card or add-on card.
*Support maximum size: 205mm x 120mm x 45mm
*The PRC01 does not include a power adapter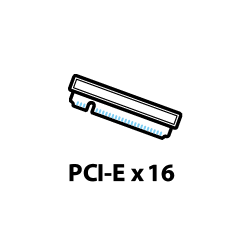 Strong Expansion Capacity with M.2
With two native M.2 2280 Type M and one M.2 2230 Type E slot, the XH510G2 offers faster storage performance and expansion capacity for M.2 SSD and Wi-Fi modules, providing higher transmission bandwidth.
* M.2 key M supports both SATA and PCI-E storage interfaces; however, the one on the bottom side only supports SATA gen 3.0.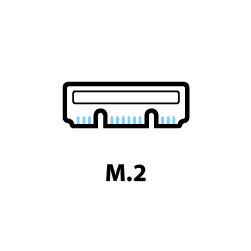 Rich Connectivity with High-Speed Gigabit LAN
The XH510G2 provides 4xUSB 3.2 Gen 1, 4xUSB 2.0, and SATA gen 3.0. Additionally, an Intel® Gigabit LAN is included in the model to provide high-speed data transfer capability and thus a better business networking integration. Besides, an optional COM port RS232 helps connect to peripherals such as a thermal printer, automation, or barcode scanner.

Exclusive Cooling Technology
The XH510G2 features Shuttle's exclusive heat-pipe cooling system with a smart fan design. The clever ventilation design allows constant air circulation between the inside and outside of the machine resulting in high stability and low noise for 24/7 long-term operation. The XH510G2 adopts industrial capacitors to meet the 0 - 50 ⁰C environmental operation demands of commercial applications.
* With use of Wide Range Temp. SO-DIMM and SSD.
Operating System Support
- Windows 11 64bit
- Windows 10 64bit
- Linux