SD52T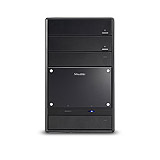 Dominant Systems for Enthusiast and Power User
Based on the Intel® G965 + ICH8R chipset, the Shuttle SD52T is the first model based on T chassis to support the latest Intel Core™ 2 Quad processor. Get in on the increasing number of highly threaded programs with quad-core technology , with four processing cores, up to 8MB of shared L2 cache, and up to 1066 MHz Front Side Bus, Intel® Core™ 2 Quad processor will fuel intensive entertainment and more media multitasking can bring a multimedia powerhouse to your house and work.
Intel® socket Processors Support
Intel® Core™2 Quad
With four execution cores, the Intel® Core™2 Quad processor blows through processor-intensive tasks in demanding multitasking environments and makes the most of highly threaded applications. Pioneer the new world of quad-core and unleash the power of multithreading.

Core™2 Duo Extreme
The Intel® Core™2 Extreme quad-core processor for desktop PCs features the latest arsenal of performance-rich technologies. It was designed to run energy-efficient so you can run red hot. Plus, that added energy efficiency enables systems to run quieter.

Core™2 Duo
Experience revolutionary performance, unbelievable system responsiveness, and energy-efficiency built in - up to 40% faster and over 40% more energy efficient.

Intel® Pentium® D processor
Experience the powerful multitasking capabilities of an Intel® Pentium® D processor-based PC with revolutionary Intel dual-core technology.

Intel® Pentium® 4
Get advanced performance for today's productivity, digital imaging, music and entertainment applications. The Intel® Pentium® 4 Processor provides the performance, quality, and reliability demanded by consumer and business customers.

Intel® Celeron D
The Intel® Celeron® D Processor delivers a balanced level of proven technology and exceptional value for desktop PCs.

Intel G965 Express Chipset
The Shuttle SD52T based on the combination of the Intel® Core™2 Quad processor and Intel® G965 Express Chipset deliver advanced features that bring power efficiency, higher grades of video, graphics, audio, and system performance for a more exciting experience. SD52T delivers Intel's four-core technology, advanced video playback, enhanced 3D effects, theatre-quality sound, robust content protection, and quicker system responsiveness to power your gaming and work.
PCI Express interface
The PCI Express architecture enables increased bi-directional bandwidth to the graphics and I/O interfaces. With theoretical bandwidth up to 4 GB/s per direction, the PCI Express x16 graphics port can provide more than three and a half times the graphics bandwidth over previous high-performance discrete graphics solutions.
Memory Architecture
To support faster memory, increased graphics requirements, and I/O bandwidth, the Intel G965 Express Chipset incorporates an updated Memory Controller Hub (MCH) backbone architecture. This new design includes wider internal data buses that support dual-channel DDR2 memory technology at 1066 MHz for greater platform performance and memory flexibility.

This new design includes wider internal data buses that support dual-channel DDR2 memory technology at 1066 MHz for greater platform performance and memory flexibility. 4x DIMM slots can served up to 8 GB memory.

Intel® Graphics Media Accelerator (GMA) X3000 with Intel® Clear Video Technology
Intel GMA 3000 combines faster graphics processing and increased memory bandwidth to deliver richer visual quality and color. with a Media Expansion Card can bring more entertainment features into the PC by supporting TV-tuner, PVR and picture-in-picture capabilities

Intel® Clear Video Technology delivers enhanced video playback, sharper images, and precise color control for a premium visual experience.

7.1 Channel High Definition Output
The Shuttle SD52T audio features a comprehensive array of audio connections, including multi-channel speaker outputs , line in, optical SPDIF in, optical SPDIF out, and AUX in, which provides best sound surroundings for enthusiast and power user.
Advanced I/O
The SD52T offers ample I/O connectivity, and then some. Features, such as USB port, RJ45 Ethernet port, D-Sub VGA port, line in connector, line out connector, serial port, earphone, and microphone built into this sexy front panel.
250 Power Supply
The Shuttle SD52T uses ATX PS3 PFC power supply. With optimized power supply up to 250W, SD52T brings higher efficiency, lower ripple and noise. Users will have freedom on choosing a variety of ATX PSU for upgrade.