CR40(16X DVD+R/RW)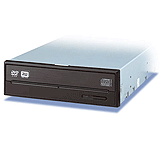 The world's first 16X DVD writer with style
How many XPC fans are looking for a DVD device to match their XPC? The Shuttle CR40 16X DVD-RW optical drive has been designed and manufactured specifically for the Shuttle XPC. It is available in two colors: Black and Silver.

Simply Beautiful
Designed to match the XPC's superb industrial design and performance metrics, this latest addition to the XPC Accessories product-line features fast 16X DVD ± RW burning (4X DL burning) and high-capacity 8.5GB recording with the sexiest front panel on the market.
Available in three colors - black, white and silver - the CR40 perfectly color matches the XPC. Further, the CR40 is the first white 16X DVD dual-layer burner, a fact that owners of white computers, such as the XPC Zen, are sure to welcome. Other design features include:
Brushed aluminum bezel (black, silver only)
Smooth "XPC like" corners
Streamline status light and eject button
Fast Reliable Burning
Fast Reliable Burning
Enjoy the power and flexibility of fast 16X burn speed in a variety of formats. Supporting DVD ± R/RW, the CR40 deliver class-leading performance.
4.7GB DVD in only 6mins!
2MB buffer size,120ms access time
Recordable double-layer DVD
Pack an amazing 8.5GB of data for greater storage flexibility, power
Four hours of DVD video on a single disc

Burn Control
Burn Control algorithm constantly evaluates write quality, ensuring optimal write quality over the entire disc. Unlike other drives, which preset the write power before the actual writing of data, Burn Control constantly evaluates the write quality and adjusts the write power accordingly to ensure optimal writing over the entire disc. This is especially important near the edges of the disc where media warping is more prevalent.

Seamless Link Technology
Seamless link technology automatically monitors the recording status to prevent buffer under run, providing near excellent record quality every time.
Tilt Control
Optimal read and write quality is obtained when the angle between the disc and the laser beam is 90 degrees. If a disc is warped however, the laser beam many no longer be correctly positioned. Tilt Control repositions the OPU (Optical Pickup Unit) to maintain the 90-degree angle between the disc and the laser beam in order to ensure the best write quality.