SN68SG2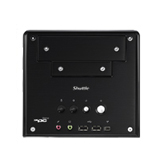 Hi-Def Your Vision
The Shuttle SN68SG2 is designed for the latest AM2 multi-core processor platform with NVIDIA® GeForce 7025/nForce™630a chipset, delivering the best-in-class 3D performance and leading graphics compatibility to play top games the way they are meant to be played. The finest cinematic surround sound effects provided by integrated 7.1 channel high definition audio.
The SN68SG2 brings enhanced data transfer through high speed SATA 3Gb/s, and features low noise and ultra cool ICE 2 (Integrated Cooling Engine 2) technology making it a suitable platform for home or work.

Supports the Latest AM2 Multi-core Processors
The new AM2 platform brings amazing performance for high level gaming and office applications. The SN68SG2 supports the latest AMD Athlon™ 64 X2, Athlon™ 64 and Sempron™ processors.

7.1 Channel HD Surround Sound Audio
Experience fine cinematic surround sound effects at home, with 8 channels of home theater stereo audio.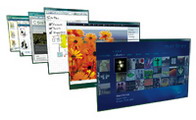 Supports Windows Vista Premium
Breathtaking Windows Aero™ 3D visual interface and a host of groundbreaking new features, Windows® Vista™ Premium promises to deliver a streamlined computing experience designed to fundamentally change how users view, find and organize their digital information.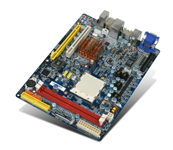 Smart Color Slot Design
Peripherals, connectors and memory modules can be easily recognized with smart color codes providing easier installation.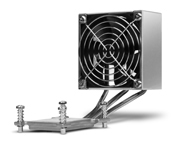 Integrated Cooling Engine 2 (ICE 2)
Like its predecessor Integrated Cooling Engine 2 (ICE 2) uses convection cooling to dissipate heat away from and around the CPU. With all the same basic concept and designs the new improved version ICE 2 includes, copper tubes coated in nickel enhances tube hardness and rust-proof protection are filled with distilled water, effectively channels heat away, providing high efficiency processor and chassis cooling.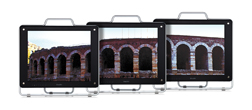 Features NVIDIA® nView® Multi-Display Technology
Supporting up to a maximum of 3 monitors, the nView® Multi-Display Technology provides the greatest productivity out of your system. Working with 3 monitors means you are no longer confined to a single monitor, spreading your work or games over multiple displays. No more minimizing windows or having them tabbed together, see clearer and work more efficiently and effectively with NVIDIA® nVIEW® Multi-Display Technology.
Links