SD11G5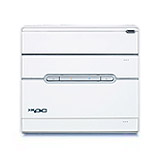 A Silent Performer
Combining Shuttle's exclusive Silent X technology with the energy efficient Pentium® M processor, the XPC SD11G5 delivers the versatility and performance of a mainstream desktop within a silent PC solution. Shuttle's patented ICE heat-pipe system, and advanced system management and control software provide superior cooling while helping to reduce excess noise. Even under high load the XPC SD11G5 generates less than 24dB.
Amazingly, the XPC SD11G5 manages to achieve its impressive silent PC capabilities without compromising features or performance. Accelerated Intel 3D graphics and video, Sound Blaster Live! 7.1-channel surround sound, and high-speed LAN are all standard features of the basic system. Also, the XPC SD11G5 is fully compatibility with off the shelf PC components including SATA hard disk drives, PCI Express graphics cards, and USB 2.0 peripherals, giving you the freedom to create a fully customized silent PC solution for your home or office.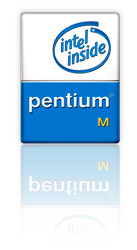 Intel Pentium® M Processor Support
Based on the Intel® 915GM + ICH6M chipset, the XPC SD11G5 is the first XPC to support low-power Intel® Pentium® M processors. With optimized power management and large 2MB L2 cache, Pentium M processors enable outstandingperformance with very little power draw.
‧Other features of Intel's Pentium M processor sequence include :- Low power
Intel Pentium M processors deliver breakthrough performance for a processor that peaks at less than 30W power draw.
- Power optimized system bus
533/400 MHz FSB allows for fast execution of system instruction sets.
- 2 MB L2 cache
Improves the performance of complex business applications by making large amounts of the most-needed data readily available to the processor. Multimedia presentations, website design, financial applications, automated planning tools, collaboration, data mining and more – virtually every modern business solution benefits from increased cache size and speed.
- Enhanced Intel SpeedStep® Technology
Designed for notebooks, this technology, only available from Intel, enables the processor to adjust its frequency, reducing power consumption and fan noise to create a quieter office experience.
Intel 915GM Express Chipset
The XPC SD11G5 combined with the Intel® Pentium® M processor delivers innovative features and new benefits for discriminating users at home or in the office.
The Intel 915GM Express Chipset delivers outstanding system performance through high-bandwidth interfaces such as dual-channel DDR2 memory, 533 MHz system bus, PCI Express x16 graphics and PCI Express x1 I/O ports, next-generation Serial ATA and Hi-Speed USB 2.0 connectivity.
This chipset also supports stunning displays with the Intel® Graphics Media Accelerator 900 (Intel® GMA 900) enhanced integrated graphics controller.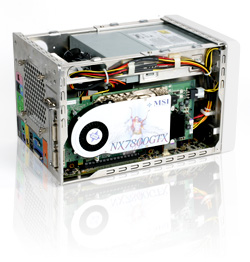 PCI Express Interface
The PCI Express architecture enables increased bi-directional bandwidth to the graphics and I/O interfaces. With theoretical bandwidth up to 4GB/s per direction, the PCI Express x16 graphics port can provide more than three and a half times the graphics bandwidth over previous high-performance discrete graphics solutions.
Designed to support cutting-edge PCI graphics, the XPC SD11G5 has been tested compatible with the NVIDIA 7800GTX as well as other high-performance graphics cards.
Memory Architecture
To support faster memory, increased graphics requirements, and I/O bandwidth, the Intel 915GM Express Chipset incorporates an updated Memory Controller Hub (MCH) backbone architecture. This new design includes wider internal data buses that support dual-channel DDR2 memory technology at 533 MHz for greater platform performance and memory flexibility.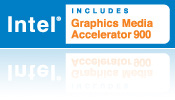 Intel® Graphics Media Accelerator 900
The Intel 915GM Express Chipset also features an improved graphics core over the previous generation 855GME. Intel GMA 900 enhances the user experience with faster graphics, Microsoft DirectX™ 9.0 3D performance, and better video playback and quality. The increased performance enables smooth standard and high definition video playback. Built-in support of consumer electronic displays allows consumers to plug into native high-definition displays and output to either 720p or 1080i resolutions. The new graphics core, combined with the Intel high-performance dual-channel memory interface, can deliver significant graphics performance over previous Intel platforms.
Dual Independent Display
With support for Dual Independent Display, enhanced modes for widescreen flat panels, and optimized 3D, PC platforms based on the Intel 915G Express Chipset can deliver an intense, realistic visual experience without requiring a separate graphics card.
Further, the Intel 915GM Express Chipset supports integrated TV out allowing the XPC SD11G5 to connect to a standard television set for home media center applications.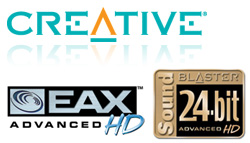 Creative Sound Blaster Live! 24-bit EAX high-definition 7.1 audio processor
The XPC SD11G5 with the Sound Blaster Live! 24-bit delivers new levels of PC audio unmatched by any other integrated solution. Movies are brought to life with captivating, theater-like, multi-channel surround in up to 7.1 channel configurations. Dramatic 3D positional audio, and sophisticated environmental audio effects deliver a new level of realism to games. Finally, patented CMSS 3D audio technology enables up-mixing of stereo music recordings for improved listening on multi-channel speaker sets, and advanced audio processing dramatically enhances music with features including Bass Boost, Multi-Band Graphic Equalizer, Audio Clean-Up, and more.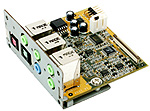 Audio Daughterboard
The XPC SD11G5 audio daughterboard features a comprehensive array of audio connections, including multi-channel speaker outputs (up to 7.1 channel), line in, optical SPDIF in, optical SPDIF out, and AUX in.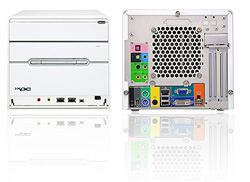 Advanced I/O
The SD11G5 offers ample I/O connectivity, and then some. Features, such as the Clear CMOS button and Wireless LAN perforation, are Shuttle exclusives, and not seen in other small form factor computers. Further, the XPC SD11G5 motherboard includes a mini-PCI slot, another first in SFF implementations.
The XPC SD11G5's feature-rich back panel is perfectly complemented by an equally rich front panel. With USB 2.0, FireWire 400, earphones, and microphone built into this sexy front panel. The XPC SD11G5 provides more connections and ease of use over regular ATX forced to sit on the floor and out of reach.