SD37P2 V2
Shuttle announced the launch of its newest gaming PCs in American market
"We made it our goal to extract the most performance from our existing XPCs without sacrificing portability for LAN parties. The result: Shuttle 1337 SDXi blending the paramount engineering with unsurpassed technologies from Intel and ATI." said Kevin Tu, Product Marketing Manager of Shuttle US.
2006/12/29
Global / Product launch
(Taipei, Taiwan - December 29, 2006)Shuttle Inc., the world's leading designer and manufacturer of small form factor computers and accessories announced the launch of its newest lineup of gaming PCs in American market.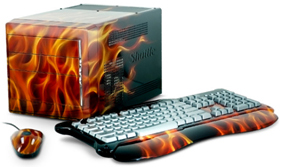 The new Shuttle 1337 systems differ from the regular Shuttle XPC systems in form and function. Sporting a unique paint job and liquid-cooling system, the Shuttle 1337 system is highlighted with premium-grade glossy automotive paint by Smooth Creations for that customized touch. Paint jobs by Smooth Creations offer unmatched quality and craftsmanship. According to Smooth Creations PR representative Ashley Willis, "Quality is not expensive ... it's priceless!"
"You can be sure that you will have the fastest machine around the neighborhood" said the editor Edwin of PC Gadgets. "This is just so freakingly awesome" said the editor of FanBoy TechWeb.
Shuttle 1337 SDXi systems integrate the best technologies for blazing fast performance in games and applications. Powered by the Intel Core 2 Extreme Edition X6800 or QX6700 processor, 1337 SDXi systems deliver two and four cores of processing with seamless multitasking capabilities. Joining the Core 2 Extreme processor is a pair of AMD ATI Radeon X1950XT graphics cards in CrossFire. The pair of ATI Radeon X1950XT graphics cards delivers breathtaking visuals with outstanding performance.
About Shuttle
Established in 1983 and publicly listed since 2000, Shuttle Inc (TAIEX 2405) is an industry leading designer and manufacturer of small form factor (SFF) computers. Shuttle produced the first commercially-successful SFF computer, or Mini PC. It's engineered to be smaller and more-efficient, yet just as powerful as a full size desktop. Succeeding the high reliability and quality of SFF, Shuttle seeks to provide further rounded solutions for digital home and commercial market.
Contact US
Marketing Dept.
NO. 30, Lane 76, Rei Kuang Rd.,
Nei-Hu Dist., Taipei, Taiwan
Tel: 886-2-8792-6168
Fax: 886-2-8792-6268
E-mail:
shuttlepr@tw.shuttle.com