K48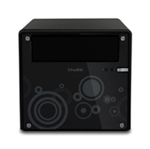 Kreate to Go Simple & Smart!
It's a smart way to make your life easier. Shuttle provides KPC K48 as your great company at home with the simplest functions. K48 comes as a green cube which consumes very little power and is cost effective to be used as home server or internet surfing in amazing speed. The quiet K48 produces less than 28 dBs is even lower than in a library. Using MyKover, it takes just 1-minute, 2-clicks and 3-steps to customize your PC with much fun!
KPC K48 definitely provides a convenient and smart computer solution for you, no matter when you work or enjoy digital entertainment.
FORM FACTOR
Shuttle Form Factor
PROCESSOR
Intel Core 2 Duo / Intel Dual-Core E2000 series / Celeron D 400 series
Support 533/800/1066MHz FSB

CHIPSET
Intel 945GC + ICH7
MEMORY
2 x 240 pin DDR2 DIMM Slots, 1GB per DIMM (Max 2GB)
Dual Channel DDR2 533/667MHz supported
VIDEO OUTPUT
Intel GMA 950 256bit 3D engine with a powerful 400MHz core and DirectX 9 3D hardware acceleration
Dynamic Video Memory Technology(DVMT)3.0 supports up to 224MB of Video memory
AUDIO
Realtek ALC662 5.1 Channel High Definition audio
ETHERNET
Marvell 88E8056
IEEE 802.3u 100Base-T specification compliant
10MB/s,100MB/s,1GB/s
Support Wake-On-LAN function
STORAGE INTERFACE
(1) UltraDMA100 IDE channel Master from ICH7
(2) On-board SATA connector
ONBOARD CONNECTORS
(2) SATA connector
(1) ATA100 bus master IDE connector
(1) ATX main power connector
(1) ATX 12V power connector
(3) 4pin fan connectors
FRONT PANEL
Power-On button
BACK PANEL
(1) PS/2 keyboard
(1) PS/2 Mouse
(1) Gigabit LAN port
(1) Serial port
(1) D-sub port
(1)DVI port
(4) USB 2.0 ports
(1) Front out connector
(1) Rear Surround out connector
(1) Center / Bass connector
(1) Printer port perforation
(1) Wireless port perforation
DRIVE BAYS
(1) 5.25' bay
DIMENSIONS
295(L)x185(W)x200(H) mm
Dimension drawing
POWER
100W
Input:100- 240V AC
ACCESSORIES
XPC User Gudie
XPC CD Driver(32/64bit)
(1) SATA cable
(1)IDE cable
Other:
Screws