SG33G5M DELUXE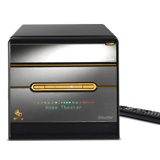 D'VO – True-to-life entertainment
At the heart of the Shuttle D'VO series is the SG33G5M Deluxe, an entire home entertainment system in one compact chassis. Sit back and enjoy a complete entertainment experience with visually stunning HD video delivered through HDMI (HDCP) output and the finest cinematic surround sound effects delivered by Dolby® Digital Live! and DTS™ Connect functionality.
Featuring fingerprint recognition technology, the SG33G5M Deluxe provides an added layer of security to ensure your personal documents and information are kept safe. In addition, data sharing is much faster and more convenient than before with e-SATA and innovative USB Speed-Link feature, which easily connects and shares data between 2 PCs.
Enjoy a life without cords with wireless connectivity provided by WiFi 802.11b+g or sync your images taken by mobile phone thru integrated Bluetooth. Navigate and access your entire digital multimedia contents easily with a remote controller, without the fuss of typing and clicking the keyboard and mouse.
FORM FACTOR
Shuttle Form Factor
PROCESSOR
Intel Core 2 Quad、Core 2 Duo,Dual-Core,Celeron 400 serial support
FSB 800/1066/1333MHz support
CHIPSET
Intel G33 + ICH9DH
MEMORY
2 x 240 pin DDR2 DIMM slots,2GB per DIMM (Max 4GB)
Dual Channel DDR2 667/800MHz
VIDEO OUTPUT
Built-in Intel GMA 3100 256bit 3D engine with a powerful 400MHz core and DirectX 9.0
Dynamic Video Memory Technology 3.0 supports up to 384MB of video memory
AUDIO
Realtek ALC888DD
7.1 channel High Definition Audio
support Dolby Digital Live! and DTS
ETHERNET
Marvell 88E8056
IEEE 802.3u 100Base-T specification revision 1.0
100Mb/s and 1Gb/s operation
Support Wake-On-LAN function
IEEE1394 (FireWire)
TI TSB43AB22A
Complise with 1394 OHCI specification revision 1.0
Support 400Mb/s,200Mb/s,100Mb/s transfer rate
STORAGE INTERFACE
(3) 3.0Gb/s bandwidth SATA II
(1) 3.0Gb/s bandwidth eSATA
(1) Ultra DMA/100 IDE channel
(1) Floppy
ONBOARD CONNECTORS
(3) SATA connectors
(1) ATA100 bus IDE connector
(2) 2x5 pin USB 2.0 header
(1) Floppy connector
(1) ATX main power connector
(1) ATX 12V power connector
(1) set 4pin fan connectors
(1) set 3pin fan connectors
(1) PS/2 keyboard/mouse header
FRONT PANEL
(2) UBS 2.0 ports
(1) mini IEEE 1394 port
(1) Microphone-In
(1) Earphone-Out
(1) Figerprint Recognition
(1) Bluetooth indicator
(1) WiFi indicator
Power-On button
Reset button
Speed-Link button
Power LED
HDD LED
BACK PANEL
(1) PCI-E x16 slot
(1) PCI slot
(1) RJ45 Gigabit LAN port
(2) eSATA port
(1) HDMI port
(4) USB 2.0 ports
(1) VGA port
(1) Line-in port
(1) Front out port
(1) Side Surround out port
(1) Rear Surround out port
(1) Center/Bass port
(1) Fiber SPDIF port
(1) IEEE1394 port
(1) Clear CMOS button
(1) Printer port fixture
(1) Wireless Antenna fixture
DRIVE BAYS
(2) 3.5' bay
(1) 5.25' bay
DIMENSIONS
310(L) x 200(W) x 185(H) mm
POWER
300W
Input:100-240V AC
Dimensions:190(L) x 82(W) x 43(H) mm
ACCESSORIES
Mainboard User manual
Mainboard CD-Driver
XPC Installation Guide
FDD Cable
CD-ROM Cable(pre-install)
SATA cable(pre-install)
HDMI to DVI converter
Power cord
Others:
Remote control
Screws
Heatsink Compound