SN41G2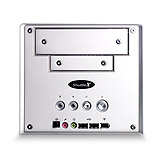 Built for [easy] performance…
The XPC SN41G2 is designed to be the centerpiece of you digital life. This small form factor (SFF) computer offers unmatched style, functionality and performance. From digital music to editing digital video, the XPC SN41G2 delivers the perfect combination of size, performance and style.
"For … office work, movies, music and everything … this machine is all you'll ever need" — Fuad Abazovic, reviewer, TheInquirer.net.
Digital hub (music, photos and video), Desktop replacement, Home gaming center, Home office productivity.
FORM FACTOR
Shuttle Form Factor
PROCESSOR
Socket A , AMD Athlon/ XP & Duron K7 , 333/266/200MHz FSB
CHIPSET
NVIDIA nForce2 IGP + MCP-T
MEMORY
Dual Channel DDR 200/266/333 * 2
VIDEO OUTPUT
Geforce4 MX , 128 MB VGA share memory
AUDIO
Realtek ALC650 6 Ch , Support Digital SPDIF Output
ETHERNET
Realtek 8201BL,10/100Mb/s LAN
IEEE1394 (FireWire)
Realtek 8801
STORAGE INTERFACE
IDE/SATA
FRONT PANEL
USB * 2 , Line-out/Headphone * 1 , MIC * 1 , (1) Firewire 400 Port , SPDIF * 1
BACK PANEL
PS/2 Keyboard & Mouse * 1 , Serial Port * 1 , 1394 * 2 , USB * 2 , LAN * 1 , VGA * 2 S-video*1
DRIVE BAYS
1 x 3.5" bay
1 x 3.5" bay (Internal)
1 x 5.25" bay
DIMENSIONS
(L)300*(W)200*(H)185
POWER
200W (PFC)