SN68PTG6 DELUXE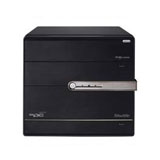 Hi-Def Your Vision
Featuring the unprecedented performing integrated graphics solution on the market, the NVIDIA® GeForce® 7050PV/ NVIDIA nForce® 630a, Shuttle SN68PTG6 Deluxe delivers breathtaking high definition video and audio capabilities for the latest high definition digital multimedia system. Powered by NVIDIA® PureVideo Technology with HDMI, delivers richer graphics and smoother video from your Blu-ray and HD-DVD contents.
Enjoy a complete entertainment experience with visually stunning HD video delivered through HDMI output and the finest cinematic surround sound effects by Dolby® Digital Live! and DTS™ Connect.
Featuring fingerprint recognition technology, the SN68PTG6 Deluxe provides an added layer of security to ensure your personal documents and information are kept safe. In addition, data sharing is much faster and more convenient than before with e-SATA and innovative USB Speed-Link feature, which easily connects and shares data between 2 PCs.
FORM FACTOR
Shuttle Form Factor
PROCESSOR
AMD Athlon™ 64 X2 / Athlon™ 64 / Sempron™
1 GHz HyperTransport Technology x16 Up/Down links to AMD socket AM2 CPUs
CHIPSET
nVidia® GeForce® 7050PV/ NVIDIA nForce® 630a
MEMORY
2 x 240 pin DDR2 DIMM Slots, 2GB per Slot(Max.4GB)
Support DDR2 533/667/800 Dual Channel, Unbuffered RAM
VIDEO OUTPUT
Integrated NVIDIA GeForce 7 Series
Shader model 3.0 vertex processor
Shader model 3.0 pixel processor
NVIDIA CineFX 3.0 architecture
NVIDIA Intellisample AA technology
DirectX 9 Support
AUDIO
Realtek ALC888DD, 7.1HD Audio
High-performance 103sB SNR quality
Playback sampling rates up to 96KHz
Support Dolby Digital Live! and DTS
ETHERNET
MARVELL 88E1116
10/100/1000 LAN PHY
IEEE1394 (FireWire)
TI TSB43AB22A
Complies with 1394a OCHI specification revision 1.0
Support 400Mb/s, 200Mb/s, 100Mb/s data transfer rate

STORAGE INTERFACE
(3) 3.0Gb/s bandwidth SATA II
(1) Ultra DMA/100 IDE channel
ONBOARD CONNECTORS
(1) 4-pin CPU fan connector
(1) 3pin North Bridge fan connector
(1) ATX main power connector
(1) ATX12V main power connector
(1) ATA133 bus master IDE connector
(2) Serial ATA connectors
(1) Floppy connector
(2) 2x5 pin USB 2.0 header
(1) PS/2 keyborad header
(1) PS/2 mouse header
FRONT PANEL
(2) USB 2.0 ports
(1) Mic In
(1) Earphone Out
(1) mini FireWire 400
(1)Speed Link button
(1)Power indicator - blue
(1)HDD indicator - orange
(1)Figerprint Recognition
(1)Bluetooth indicator
(1)WiFi indicator
BACK PANEL
(1) PCI-E x16 slot
(1) PCI Slot
(1) HDMI port
(1) D-sub
(4) USB 2.0 ports
(2) eSATA connector
(1) FireWire port
(1) RJ45 port
(1) Front out connector
(1) Side Surround out connector
(1) Rear Surround out connector
(1) Center/Bass connector
(1) Line In
(1) SPDIF out port
(1) Clear CMOS
(1) Wireless Antenna fixture (PN20)
(1) Printer port fixture (optional for PC8/PC9)
DRIVE BAYS
(2) 3.5' bay
(1) 5.25' bay
DIMENSIONS
310(L) x 200(W) x 185(H) mm
POWER
300W (PC50)
Dimension: 190(W)X82(H)X43(D) mm(Max)
Input: 100-240V AC
ACCESSORIES
XPC Multilanguage Quick User Guide
XPC CD Driver (XP/Vista 32bit, Bluetooth, WiFi,
Fingerprint recognition)
1* Bonus CD(PC-cillin 2007,Adobe Reader 8.1)
WiFi Installation guide
Bluetooth Installation guide
1* Power cord
1* HDMI to DVI converter
1* IDE cable (pre-install)
1* SATA cable (pre-install)
1* Floppy cable
Screws
Heatsink Compound