SN95G5 V2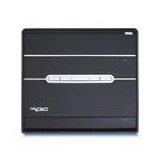 64-bit power computing! more protection for your files !
The XPC SN95G5 V3 destroys the myth that bigger PCs are faster. Designed for power-hungry users, this AMD Athlon 64-based small form factor (SFF) computer delivers tower-crushing, performance in one-third the space. Do everything faster, get the XPC SN95G5 today! The XPC SN95G5 is an ideal: LAN-gaming PC; Home gaming machine; Digital media management center; Digital content workstation.
The SN95G5 V3 Hardware Firewall protects your PC from intruders by filtering unauthorized traffic.
FORM FACTOR
Shuttle Form Factor G5
PROCESSOR
- AMD Athlon 64 CPU with 1600MT/s
- HyperTransport link
CHIPSET
NVIDIA nForce 3 250
MEMORY
- (2) 184 pin 333/400 DDR Dimms
- 2GB capacity and Max.1GB per DIMM
AUDIO
Realtek ALC655 six channel audio
ETHERNET
- Marvell PHY 88E1111
- 10/100/1000 Mb/s LAN operation with
- Wake-On-LAN operation
IEEE1394 (FireWire)
- VIA VT6307
- 1394 OHCI v1.0 compliant
- Up to 400Mb/s data transfer rate
STORAGE INTERFACE
- NVIDIA nForce3 250 integrated SATA
- Dual Channel UDMA 150MB/s S-ATA
- Support RAID 0, 1, JBOD
DRIVE BAYS
1 x 3.5" bay
1 x 3.5" bay (Internal)
1 x 5.25" bay
DIMENSIONS
310(L) x 200(W) x 185(H) mm
POWER
240 W