SP35P2 PRO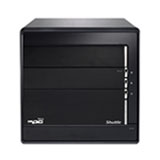 Revolution of Hardcore Platform
The new Shuttle SP35P2 Pro features the new Intel® P35 Chipset supporting the latest Intel® multi-core processors up to 1333MHz and the upcoming Intel® 45nm processors. Gamers are able to take advantage of the higher memory performance with less power consumption to run even the most memory intensive applications such as high-definition video and in-depth 3D graphics with ease.
SP35P2 Pro also provides an added layer of security with the integrated biometric Fingerprint Recognition Technology ensures your personal documents and information are kept safe. In addition, data sharing is much faster and more convenient than before with e-SATA and innovative USB Speed-Link feature, which easily connects and shares data between 2 PCs.
For the audio enthusiasts, the Shuttle SP35P2 Pro features Intel® High Definition Audio, with heart pounding 7.1 channels surround sound, to deliver the most natural and engrossing multimedia entertainment and gaming experience available.
FORM FACTOR
Shuttle Form Factor
PROCESSOR
Intel Core 2 Quad / Core 2 Duo series
with 1066MHz FSB
Intel Core 2 Quad / Core 2 Duo series with 1333MHz FSB
CHIPSET
Intel P35 + ICH9R
MEMORY
4 x 240pin DDR2 DIMM slots,2GB per DIMM(Max 8GB)
Support Dual channel DDR2 667/800
AUDIO
Realtek ALC888
7.1 channel High Definition Audio
Support S/PDIF in/out function
ETHERNET
Marvell 88E8056
IEEE 802.3u 100Base-T specifications compliant
10Mb/s,100Mb/s,1Gb/s operation
Support Wake-ON-LAN function
IEEE1394 (FireWire)
TI TSB43AB22A
Complies with 1394 OHCI specification revision 1.0
Support 400Mb/s,200Mb/s,100Mb/s data transfer rate
STORAGE INTERFACE
(4) on board 3.0Gb/s bandwidth SATAII
(2) 3.0Gb/s bandwidth eSATA in back panel (RAID 0,1,10,5)
(1) UltraDMA 100 channel master from JMicron JMB368
(1) Floppy
ONBOARD CONNECTORS
(4) Serial ATA connectors
(1) ATA100 bus master IDE connector
(1) Mini card slot (support Intel mobile turbo memory )
(2) 2x5 pin USB 2.0 header
(1) Floppy connector
(3) 4pin fan connectors
(1) 3pin fan connectors
(1) 3pin fan connector
(1) 12V for main power connector
(1) 12V for standby power connector
(1) PS/2 keyboard/mouse header
FRONT PANEL
(2) USB 2.0 ports
(1) Mini IEEE1394
(1) Microphone-In
(1) Fingerprint sensor
Power-On button
Reset button
Speed-Link button
Power LED
HDD LED
BACK PANEL
(1) PCI-E x16 slot
(1) PCI slot
(6) USB 2.0 ports
(1) IEEE 1394
(1) Gigabyte Ethernet port
(2) eSATA port
(1) Line-in port
(1) Front out port
(1) Side Surround out port
(1) Rear Surround out port
(1) Center/Bass port
(1) S/PDIF Coaxial out
(1) S/PDIF Optical in
(1) S/PDIF Optical out
DIMENSIONS
325(L) x 220(W) x 210(H) mm
Dimension drawing
POWER
400W
Input:100 - 240V AC
Support 80 PLUS
DIMENSIONS:85(W) x 83(H) x150(D) mm
ACCESSORIES
XPC Multi-Language User Guide
XPC CD Driver (Vista / XP 32 bit and FingerPrint Driver)
Bonus CD (PC-Cillin2007 and Acrobat Reader 8.1)
I.C.E Technology CPU heat-pipe
Cables:
(2) SATA cable (pre-install)
(1) SATA cable
(1) IDE CD-ROM cable (pre-install)
(1) Floppy cable
(1) Power cord
Others:
Screws
Heatsink Compound