XP19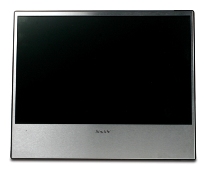 Xtreme Your Vision
Experience the optimized and colorful image with Shuttle XP19 immediately!
XP19 offers well-defined images with its stylish and elegant appearance. Featuring 24Slim™ body for the space saving and the slim frame border to maximize the vision. Especially the 5ms fast response time delivers outstanding image quality definitely gets you to the true-to-life entertainment.
The conveniently integrated speaker provides incredible audio experience and the friendly on screen display lets the users individualize the visual preferences while enjoying the stunning XP19.
XP19 is definitely ideal companion for various applications to extreme your vision and life. Never miss XP19 if you want to look good with a good look monitor.
Native Resolution
1680x1050
Response Time
5ms
Contrast Ratio
1000:1
Brightness
300
Viewing Angle
(H)30~ 81 kHz
(V)56 ~ 75 Hz
Panel Surface
ANTI-GLARE
Analog Input
D-Sub x 1
OSD Controls
(Eng/Deu/Fre/Ita/Spa/Por/Ch-s/Ch-t/Pol/Rus/Kor
/Dan/Dut/Fin/Swe/Jap)
Languages
(Eng/Deu/Fre/Ita/Spa/Por/Ch-s/Ch-t/Pol/Rus/Kor
/Dan/Dut/Fin/Swe/Jap)
Dimensions
Monitor Dimensions WxHxD(mm):433mm*356mm*24mm
Packing Dimensions: 613mm*517mm*110mm
Net Weight
4.6kg
Gross Weight
6.5kg
Optional Accessories
Signal cable Fly-in 15 pin mini D-sub (comply PC99)
Power cord 150 cm
Audio cable 150 cm