SN45G V3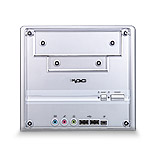 For overclockers, enthusiasts…
The XPC SN45G V3 is the ultimate-affordable high-performance small form factor (SFF) computer. Built from the ground up performance and value, this XPC offers unmatched style and functionality. Whether you're into gaming or digital media, the XPC SN45G V3 offers all the features and tools gamers and enthusiasts could want.
"The Shuttle SN45G V3 … is a must-have for overclockers and enthusiasts, wishing to have a SFF PC with all the overclocking potential" — Chronos, reviewer, VR-Zone.com.
The XPC SN45G V3 is an ideal: LAN-gaming computer, Desktop replacement, Home gaming center, Great overclocking platform!
FORM FACTOR
Shuttle Form Factor
PROCESSOR
Socket A , AMD Athlon/ XP & Duron K7 , 200/266/333/400 MHz FSB & AMD Sempron 333 MHz FSB
CHIPSET
nForce2 Ultra 400 + MCP
MEMORY
Dual Channel DDR 200/266/333/400 * 2
VIDEO OUTPUT
N/A
AUDIO
Realtek ALC650 six channel audio
ETHERNET
Realtek 8201BL
IEEE1394 (FireWire)
VIA VT6307
STORAGE INTERFACE
ATA-133 , Dual Channel UDMA 150MB/s S-ATA , Support RAID 0,1,0+1,JBOD
FRONT PANEL
USB * 2 , MIC * 1 , Earphone * 1 , (1) Firewire 400 Port
BACK PANEL
(1) PS/2 Keyboard & Mouse , (1) SPDIF I/O Ports , (1) IEEE 1394a Port , USB * 2 , RJ45 * 1
DRIVE BAYS
1 x 3.5" bay
1 x 3.5" bay (Internal)
1 x 5.25" bay
DIMENSIONS
(L)300*(W)200*(H)185
POWER
250W (PFC)