Common FAQ
How to make my large size HDD (over 2TB) to be one partition with Windows operating system?
2011/12/21
To make a large size HDD to be a single partition in Windows, please convert the partition style from MBR to GPT in Disk Management as below picture:
Note:
Due to the old Windows partition style (MBR) can only support to 2TB per partition, there is a new style called GPT (GUID Partition Table) mode, can support up to 18EB.
And there is another problem which the old legacy BIOS can't support the HDD with GPT mode to be a bootable disk, it need to use the EFI (Extensible Firmware Interface) to instead the legacy BIOS to make the GPT disk for booting.
Note: Shuttle had imported the EFI with SH61R4, SH67H3/H7, SZ68R5 and all other new models after these models.
Below table shows the Windows operating system compatibility with large size HDD: (All the Windows version tested with latest version)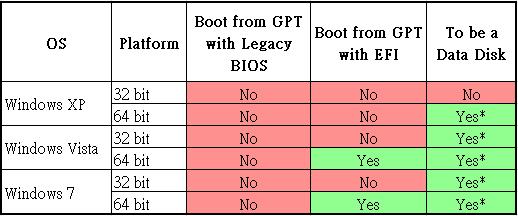 Service Center Info
Hot Line : 886-2-8792-6168
Hours : Monday through Friday 09:00 to 12:00
13:00 to 18:00 Taiwan Time (GMT+8)
E-mail :
Tech Support Form