XH110G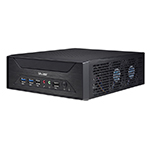 Compact and Robust Multi-display Digital Signage Player –XH110G
Shuttle debuts the first 3-liter Slim PC XH110G with new single-slot design to install multi-display graphics card in the market today. Equipped with Intel® H110 chipset, this model also supports both Intel® Kabylake and Skylake LGA 1151 processors. With Intel® built-in HD graphics engine, it's deigned to support 4K/Ultra HD video content. The XH110G is a 3-liter model with strong graphics support via PCI-E x16 expansion slot for various add-on cards such as graphics card (multi-display), capture card, multi-network card, drawing graphics card, or more. The XH110G provides multiple I/O ports and high-speed storage interfaces, including USB 2.0, USB 3.0, SATA 6Gbps, M.2, and Intel® Gigabit LAN It is impressively versatile and high-performance mini PCs made to by easily integrated into a variety of digital signage markets. Its slim metal chassis, including VESA mount capability, versatile connectivity and reliable operation in up to 50⁰C temperatures makes XH110G is very suitable for workstation or surveillance and video wall applications.

Support Intel® 6th /7th Generation Core™ Processor
Equipped with the new LGA 1151 socket, the all-new XH110G supports both Intel® 6th/ 7th Generation (Skylake/Kabylake) Core™ i3/i5/i7, Pentium®, and Celeron® 65W processors. Built-in DirectX 12 compatibility with the Intel® HD Graphics significantly increases CPU or GPU.

Equipped with an Intel®100 series Chipset
With integrated Intel® H110 Chipset, the XH110G supports dual channel DDR4 2400 with up to 64GB memory (32GBx2). It also supports Intel® Gigabit LAN, SATA 6Gbps, and USB3.0 interfaces for superb data transfer speed.

Support PCI-E X16 slot
With new refined design makes the first 3-liter XH110G support a PCI-E slot in such small form factor. With built-in a PCI-E x16 expansion slot, the XH110G is able to install r various add-on cards such as graphics card (multi-display), capture card, multi-network card, drawing graphics card for various applications.
*The maximum permitted size for display cards is 208.5mm x120mm x30mm.

Support 4K Ultra HD
The XH110G supports 4K high resolution (3840x2160) via HDMI video output. Now with four times the resolution of Full HD, viewers can enjoy the super detailed and crystal clear imaging of 4K.

Support Dual Displays
Display imaging on up to two screens via HDMI and D-sub video outputs. Use an adaptor to convert HDMI into DVI interface for diversified signal selection.

Support two M.2 expansion slots
The XH110G is built-in one M.2 2280/2260/2242 with Type M and one M.2 2230 with Type A/E slots to install M.2 SSD and a WiFi card or other compatible devices, proving a strong expansion capacity.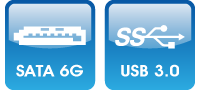 High-speed data transmission interface
The XH110G features native SATA 6Gbps and USB 3.0 high-speed storage interfaces. A USB 3.0 port which supports up to 5 Gbps and provides 10 times greater data access speed than a USB 2.0 port.

Internal USB port
Internal USB ports ensure theft protection as USB connected devices are guarded within the chassis. In addition to the USB ports at the front and back panel, the XH110G provides one Type A USB 2.0 port inside the chassis so users can install a USB TV tuner, USB 3G Module, or other USB expanders.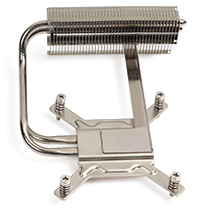 Heat pipe cooling technology
The XH110G features Shuttle's exclusive heat pipe cooling module with smart fan design. The precise vent design allows for constant air circulation between the inside and outside of the machine, resulting in high stability and low noise for long-term operation.
Operable in 0-50⁰C environments
The XH110G uses industrial capacitors in order to meet the environmental operation demands of commercial applications.

Support Intel® Gigabit LAN
The XH110G has built-in Intel® i211 Gigabit LAN and supports Wake On LAN to provide high-speed data transfer capability as well as a better compatibility for business network environment.

VESA Mount-Ready
The XH110G is VESA mount compliant and allows for versatile integration into hardware systems. This space saving capability is well-suited for digital signage applications with limited space.

24/7 Nonstop Operation
The XH110G is officially approved for 24/7 permanent operation. Thanks to Shuttle's low-power consumption design and provide a stable operating environment, this PC runs highly reliable for long-term demands of digital signage or other vertical applications.

Support Power on by RTC
By entering BIOS to set up the Power on by RTC, XH110G allows user to set a time to boot up the system, which can also be turned on and off with the Windows task scheduler. This feature will benefit on the electricity and energy saving as well as the elimination the cost of on-site service
Operating System support
-Windows 10 64bit
-Windows 7 32/64bit (Skylake only)
-Linux


The Watchdog—protecting system security
Watchdog Timer provides excellent security protection for systems that need to operate continuously for a long period of time. Use Shuttle's Watch Dog utility to maintain normal operation and stability of the system at all times.